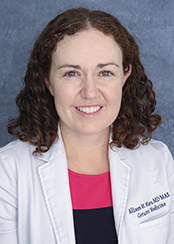 Allison M. Mays, MD
Accepting New Patients
Locations
Geriatrics
34.065805
-118.376812
Geriatrics
Monday: 8:00AM - 5:00PM
Tuesday: 8:00AM - 5:00PM
Wednesday: 8:00AM - 5:00PM
Thursday: 8:00AM - 5:00PM
Friday: 8:00AM - 5:00PM
On the northwest corner of N. La Cienega and Wilshire boulevards. The parking structure is underground and the entrance is on N. Le Doux Road. Please be aware some parking spots are for doctors only. Parking will be validated for duration of visit.
Experience
Specialties
Area in which a healthcare provider is highly trained and often board certified.
1
Programs
Cedars-Sinai clinical programs this provider is part of:
2
Research Areas
Education & Training
University of California, Los Angeles / VA - Geriatrics

Fellowship - Completed 2017

Cedars-Sinai Medical Center - Internal Medicine

Residency - Completed 2016

University of California, San Diego School of Medicine

Medical School - Completed 2013

University of California, San Diego - Clinical Research

Degrees - Completed 2012
Achievements
2

Board Certifications

2

Awards and Honors
Board Certifications
General Internal Medicine

American Board of Internal Medicine

Geriatric Medicine

American Board of Internal Medicine
Awards and Honors
Top Doctor Los Angeles Magazine
Super Doctors, Rising Star
Publications
Keller, MS, Troung L, Mays AM, Needleman J, Heilemann MV, Nuckols T. How do contraindications to non-opioid analgesics and opioids affect the likelihood that patients with back pain diagnoses in the primary care setting receive an opioid prescription? An observational cross-sectional study. BMC Family Practice. (February 2021) PMID: 33610181
Mays AM, Kim S, Rosales K, Au T, Rosen S. The Leveraging Exercise to Age in Place (LEAP) Study: Engaging Older Adults in Community-Based Exercise Classes to Impact Loneliness and Social Isolation. The American Journal of Geriatric Psychiatry (October 2020). PMID 33268235
Mays AM, Saliba D, Feldman S, Smalbrugge M, Hertogh C, Booker TL, Fulbright KA, Hendricks SA, Katz P. Quality Indicators of Primary Care Provider Engagement in Nursing Home Care. Journal of the American Medical Directors Association (October 2018). PMID 30268288
Mays AM. Pregnancy on rotations. Ethics and obligations. The New Physician, January-February Volume 62, Number 1, 2013.
Blanco JG, Sun CL, Landier W, Chen L, Esparza-Duran D, Mays A, Friedman DL, Ginsberg, JP, Hudson MM, Neglia JP, Oeffinger KC, Ritchey AK, Villaluna D, Relling MV, Bhatia S. Anthracycline-related Cardiomyopathy after Childhood Cancer: Role of Polymorphisms in Carbonyl-Reductase Genes –A report from the Children's Oncology Group. Journal of Clinical Oncology. E-published ahead of print November 28, 2011. PMID 22124095
Carter A, Landier W, Schad A, Moser A, Schaible A, Hanby C, Kurian S, Wong FL, Villaluna D, and Bhatia S. Successful Coordination and Execution of Nontherapeutic Studies in a Cooperative Group Setting: Lessons Learned from Children's Oncology Group Studies. Cancer Epidemiology Biomarkers and Prevention 17, 1665-1673, (July 2008). PMID 18628418
Finegold D. & Moser A. Ethical decision-making in bioscience firms. Nature Biotechnology 24 (3), 285-290, (March 2006). PMID 16525391
Insurances
Before scheduling, we recommend checking with your insurance plan to see if an authorization is required to see this doctor. Primary Care Physicians (adult and pediatrics) do not require prior approval.