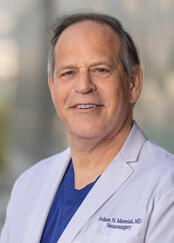 Adam N. Mamelak, MD
310-423-7900
Fax: 310-967-8739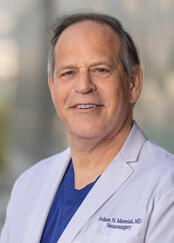 Neurosurgery - Pavilion
127 S San Vicente Blvd #A6600
Los Angeles, CA
34.074522
-118.379067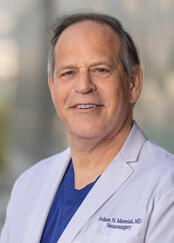 Back to Top
Locations
Neurosurgery - Pavilion
34.074522
-118.379067
Neurosurgery - Pavilion
Monday: 8:00AM - 4:30PM
Tuesday: 8:00AM - 4:30PM
Wednesday: 8:00AM - 4:30PM
Thursday: 8:00AM - 4:30PM
Friday: 8:00AM - 4:30PM
---
Self-parking is available in Cedars-Sinai parking lot P4. The cost is: 1st hour free, $5 each hour thereafter and $15 daily maximum. Valet parking is the same price as self-parking. Gratuities are not accepted. Valet is available at lot P4 Pavilion M-F, 5 a.m.-10 p.m.
Experience
Specialties
Area in which a healthcare provider is highly trained and often board certified.
1
Programs
Cedars-Sinai clinical programs this provider is part of:
7
Research Areas
Titles
Director

,

Functional Neurosurgery Program

Co-Director

,

Pituitary Center

Professor

,

Neurosurgery
Education & Training
California Institute of Technology

Degrees - Completed 1997

University of California, San Francisco Medical Center

Residency - Completed 1996

University of California, San Francisco Medical Center

Fellowship - Completed 1995

Harvard School of Medicine

Medical School - Completed 1990
Achievements
1

Board Certifications

10

Awards and Honors

5

Publications
Board Certifications
Neurosurgery

American Board of Neurological Surgery
Awards and Honors
Best Doctors
Top Doctor in Neurological Surgery & Cancer, Castle Connolly
Young Clinician Investigator Award, American Association Neurological Surgeons
Benjamin G. Brown Scholarship for Scientific Excellence
Patient Choice Most Compassionate Doctor Award
Fellow, American Association of Neurological Surgery
Member, International Society of Pituitary Surgeons
National Brain Tumor Foundation AANS/CNS Award for Best Translational Research
Member, Pituitary Society
Junior Investigator Award, American Epilepsy Society
Publications
Rutishauser U, Mamelak AN, Schuman EM. Single-trial learning of novel stimuli by individual neurons of the human hippocampus-amygdala complex. Neuron. 2006;49(6):805-813.
Mamelak AN, Lopez N, Akhtari M, Sutherling WW. Magnetoencephalography-directed surgery in patients with neocortical epilepsy. J Neurosurg. 2002;97(4):865-873.
Mamelak AN, Rosenfeld S, Bucholz R, Raubitschek A, Nabors LB, Fiveash JB, Shen S, Khazaeli MB, Colcher D, Liu A, et al. Phase I single-dose study of intracavitary-administered iodine-131-TM-601 in adults with recurrent high-grade glioma. J Clin Oncol. 2006;24(22):3644-3650.
Mamelak AN, Dowd CF, Tyrrell JB, McDonald JF, Wilson CB. Venous angiography is needed to interpret inferior petrosal sinus and cavernous sinus sampling data for lateralizing adrenocorticotropin-secreting adenomas. J Clin Endocrinol Metab. 1996;81(2):475-481.
Babu H, Ortega A, Nuno M, Dehgan A, Schweitzer A, Bonert V, Carmichael JD, Cooper O, Melmed S, Mamelak AN. Long-Term Endocrine Outcomes Following Endoscopic Endonasal Transsphenoidal Surgery for Acromegaly and Associated Prognostic Factors. Neurosurgery: 2017;00:1-10.
View Publications on PubMed