Leadership
Guided by expert clinical leadership, the Cedars-Sinai Vascular Surgery Program provides diagnosis and management of all arterial and venous disorders. The expertise of our board certified physicians includes all medical, minimally invasive and operative approaches to these problems.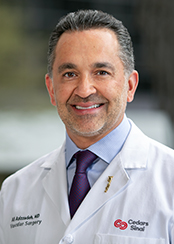 Vascular Surgery
Director
Vascular Surgery Residency Program
Co-Medical Director
Vascular Laboratory
Professor & Director
Division of Vascular Surgery
See a complete list of our expert physicians.