The Cedars-Sinai Transgender Surgery and Health Program offers individualized care for all patients seeking gender-affirming surgery and transition-related care, including those covered by Medi-Cal and Medicare.
---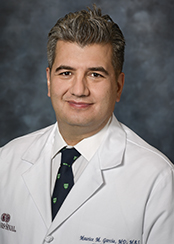 We are a community program and a far-reaching one. We offer not just expertise but a strong commitment to providing ongoing access to that expertise.
---
Maurice M. Garcia, MD
Program Director

Meet the Expert Team
---
Expert Care
Our interdisciplinary team follows an evidence- and research-based approach to tailor care for each of our patients at every stage of their transition. Our team also is dedicated to research that will improve the surgical techniques and gender-affirming options available to transgender patients. Each member of our team participates in case conferences to contribute to the care plans of patients with complex medical needs.

Our Services
We work closely with community partners and healthcare providers to deliver services and education that will improve the health of the transgender community and provide continuity of care. Our program includes specialists and experts in patient education, comprehensive male-to-female and female-to-male gender-affirming surgeries, complex revision surgeries and more.

---
Insurance Options Available
Cedars-Sinai accepts a broad spectrum of insurance plans for transition-related care, including Medi-Cal.*

*L.A. Care has terminated its contract with Cedars-Sinai Health System for the L.A. Care Medi-Cal, L.A. Care Covered, L.A. Care Covered Direct and PASC-SEIU Plan insurance products. L.A. Care Cal MediConnect was not terminated and remains in place for patients who are dually eligible for Medicare and Medi-Cal. L.A. Care and Cedars-Sinai are working together to continue to make services available to existing patients and to those who may require Cedars-Sinai's services in the future. If you already have a referral or an appointment with a Cedars-Sinai provider, there should be no delay in your care. If you are waiting for a referral or seeking to obtain one, then please follow up with your primary care physician. For additional assistance, please contact L.A. Care Member Services at 1-888-839-9909 (TTY 711).
---
Gender-Affirming Surgery
Our plastic surgery team can help you have the body that's meant for you. We have an inclusive and compassionate team of gender-affirming surgery experts.
Have Questions or Need Help?
Call the Transgender Surgery and Health team. You can also have us call you back at your convenience.