Meet Our Dance Medicine Specialists
By combining the expertise of one of America's top dance educators with one of its top orthopaedic surgeons, the Cedars-Sinai/USC Glorya Kaufman Dance Medicine Center offers a unique perspective and innovative educational and clinical programs for dancers.

Margo Apostolos, PhD, brings her background as a dancer, educator, scientist and expert in human and robotic movement and choreography. Glenn Pfeffer, MD, offers more than 25 years of experience as an orthopaedic surgeon treating dancers and athletes.
In addition to the expertise of Drs. Apostolos and Pfeffer, the Cedars-Sinai/USC Glorya Kaufman Dance Medicine Center draws on the skills of a multidisciplinary medical team with specialty training in the evaluation and treatment of dance injuries.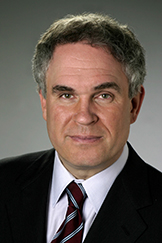 Associate Professor, Orthopedics
Co-Director, Cedars-Sinai-USC Dance Medicine Center
Director, Foot and Ankle Surgery Program
SUBSPECIALTY
Foot & Ankle
---
Many of the physicians who have medical staff privileges to practice medicine at Cedars-Sinai Medical Center are independent physicians, and not employees or agents of the hospital. These independent physicians bill separately for their services. You should contact your physician to determine their status and billing practices.