It's normal to feel anxious and scared if your child needs brain surgery. Our team is here for you during this challenging time. At Cedars-Sinai, newborns, children and young adults receive the highest level of neurosurgical care.
We treat the most complex brain diseases, including brain tumors, stroke and cerebrovascular malformations. Our team stays up-to-date on all the latest pediatric neurosurgery techniques and has been a part of developing and testing new treatment approaches. Our international reputation for excellent results is one reason why other doctors trust us to care for their patients.
Our Approach to Pediatric Neurosurgery
At Cedars-Sinai, our genuine interest in your child's wellbeing, along with top-notch care, is why some patients continue seeing us into adulthood.
Our approach includes:
World-Class Pediatric Care
Cedars-Sinai is home to some of the world's best neurosurgeons. Our experts have made significant contributions, including developing gentler techniques for accessing hard-to-reach tumors. Find out more about pediatric brain tumor care and research.
Cedars-Sinai is among the only programs on the West Coast with expertise in treating pediatric cerebrovascular problems such as stroke. We use endovascular techniques and sophisticated instruments, including some developed by our team. Our experts have training in caring for the smallest patients. Learn more about pediatric stroke.
Coordinated Care for Complex Brain Diseases
Children with complex conditions such as brain cysts and skeletal dysplasia benefit from the recommendations of multiple experts. Teams of doctors regularly meet to discuss treatment options and develop personalized care plans.
Our pediatric neurosurgeons work with experts in:
Brain imaging (neuroradiology)
Child development 
Endocrinology
Neuropsychology
Neurology
Pediatric genetics
Pediatric oncology
Social work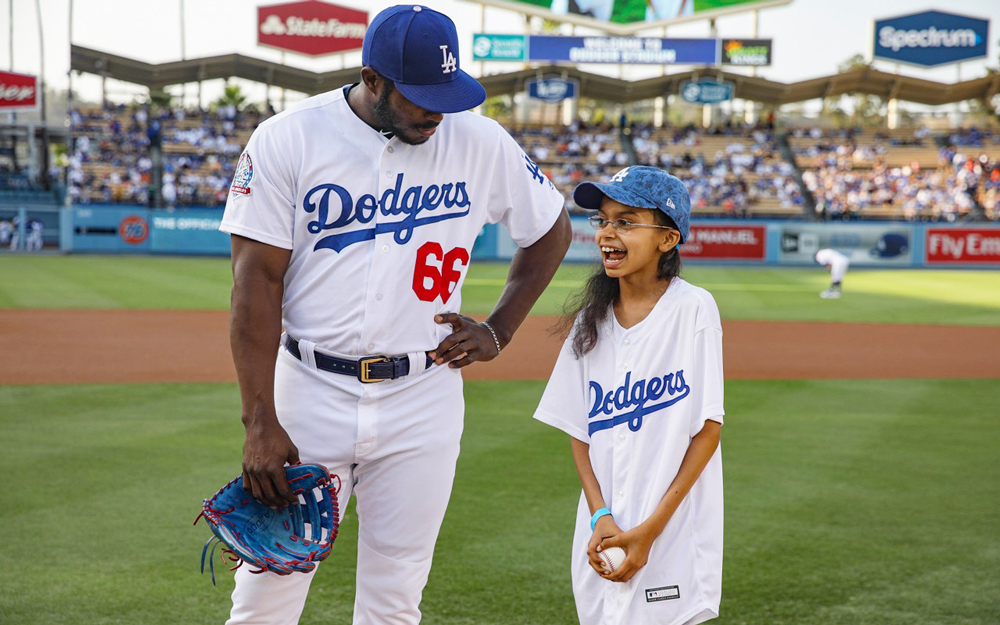 Cancer Won't Stop One Young Dodgers Fan: Alika's Story
Nine-year-old Alika first came to Cedars-Sinai for brain tumor surgery when she was 2 years old. Since then, the brain tumors have come back several times. But with our expert team behind her, she's living an active life. She enjoys dancing and baseball—even throwing out the first pitch at a Dodgers game.
Clinical Programs and Services
Innovative procedures to fix abnormal blood vessels, including cerebrovascular malformations
---
The latest techniques for repairing abnormal bone or soft tissue formations in the head or face
---
Sophisticated testing to detect life-threatening brain and spine conditions and experts who deliver timely treatment after birth
---
Innovative techniques to remove tumors often without injuring nearby brain tissue
---
Diagnosis and treatment of neurosurgical complications in patients with skeletal dysplasia including hydrocephalus, brain and magnum stenosis and spinal stenosis
---
Leading-edge care for problems such as Chiari malformations and other arteriovenous malformations
Have Questions or Need a Second Opinion?