Meet the Microtia Ear Reconstruction Expert Team
---
Specialty Physicians
Several specialty physicians may be involved in the care and treatment of patients with microtia. Some of these specialists may include:
Pediatric Anesthesiologist: An anesthesiologist experienced in working with young patients; some pediatric anesthesiologists are skilled at working with children and with craniofacial abnormalities which might affect anesthesia
Audiologist: A professional who specializes in treating individuals with impaired hearing
Craniofacial (Pediatric) Surgeon: Plastic and reconstructive surgeons with additional training in surgery for congenital deformities involving the skull and face
Pediatric Dentist: A dentist skilled in working with children that have facial deformities that extend to the teeth and jaw
Child Psychologist: Psychologists who work with children to help them cope with the difficulties of being born with a physical condition such as microtia or other craniofacial disorders
Social Worker: Social workers perform many services which may include preparing a family for surgery and providing resources for issues of concern before, during and after a procedure
Speech Therapist: Speech therapists concentrate on verbal communication and speech which can be an issue for some children with craniofacial abnormalities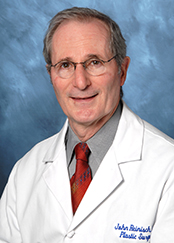 Director, Craniofacial and Pediatric Plastic Surgery, Department of Surgery
SPECIALTY
Plastic Surgery
SUBSPECIALTY
Pediatric Plastic Surgery, Microtia Surgery, Craniofacial Surgery
---
Many of the physicians who have medical staff privileges to practice medicine at Cedars-Sinai are independent physicians, and not employees or agents of the hospital. These independent physicians bill separately for their services. You should contact your physician to determine their status and billing practices.