Pulmonary Rehabilitation Program
The Pulmonary Rehabilitation Program was created to help patients manage their lung disease through every step of the journey. Our expert team will talk with you about your diagnosis, condition, medications and nutrition. We will work with you through breathing retraining, muscle strengthening and conditioning. And we make sure that you have a plan in place so you can achieve your health goals.

Gear up for health success after Pulmonary Rehabilitation with an exercise maintenance program led by a Cedars-Sinai exercise physiologist.

Addiction is a tough thing to tackle alone. This new, free smoking cessation program includes both counseling and medication options.

---
Meet the Pulmonary Rehabilitation Expert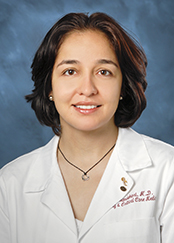 Director, Pulmonary Rehabilitation in the Women's Guild Lung Institute
Assistant Director, Lung Transplant Program
SPECIALTY
IM Pulmonary Medicine
SUBSPECIALTY
Pulmonary Rehabilitation, General Pulmonology, Lung Transplant
Many of the physicians who have medical staff privileges to practice medicine at Cedars-Sinai Medical Center are independent physicians, and not employees or agents of the hospital. These independent physicians bill separately for their services. You should contact your physician to determine their status and billing practices.
---