Meet the Asthma Expert Team
As pioneers in the diagnosis and treatment of advanced lung conditions, the highly skilled lung-disease experts at Cedars-Sinai have made us one of the West Coast's highest-ranked hospitals for pulmonology care. The lung team will provide a patient-focused approach to help you manage your disease and control your symptoms.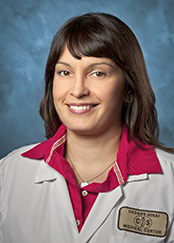 Director, Medical Intensive Care Unit
SPECIALTY
IM/Pulmonary Medicine
---
Many of the physicians who have medical staff privileges to practice medicine at Cedars-Sinai are independent physicians, and not employees or agents of the hospital. These independent physicians bill separately for their services. You should contact your physician to determine their status and billing practices.