Upload Your Outside Images Before You Arrive
You can now upload prior radiology images completed outside of Cedars-Sinai before you arrive for your exam! The Ambra uploader can accommodate DICOM images saved on your computer, or by using a CD drive to upload images from a CD.
Please go to our upload page using Google Chrome
Please click This is the link to our upload page. Our site will guide you through the rest of the process. There are also short videos available on each page to help you through the process.
*If you use Internet Explorer 11, Safari or Firefox, you will need to install the Java plug-in to upload images. You will be guided through the installation process. The plug-in should only take one minute to install. (It may already be installed.)
1. Enter your email address
If you already have an account, you will be asked for your password.
If you do not have an account, please fill in the form with the name of the patient and enter a password. (Be sure to keep a record of the password.)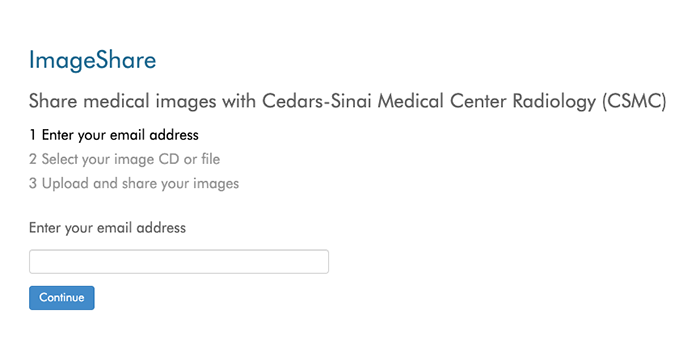 2. Select your image CD or file
You will select the CD drive or file folder from your computer where your images are stored.
Your File Explorer (PC) or Finder (Mac) will open. Navigate to the folder or CD drive that has your images. You do not need to select individual files, just the CD or folder.
If you do not know how to find them, there are links on the page with videos for either a Mac computer or a PC.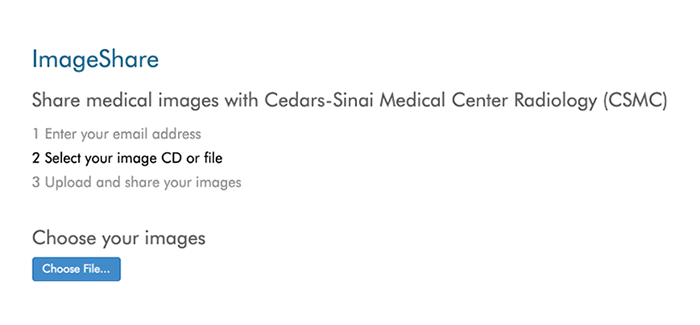 3. Upload and share your images
If you have more than one study you will be asked to choose which ones you wish to upload.
There is also a place to add a message.
Once you have selected your study or studies, read and click on the check box and click "Upload Selected Studies."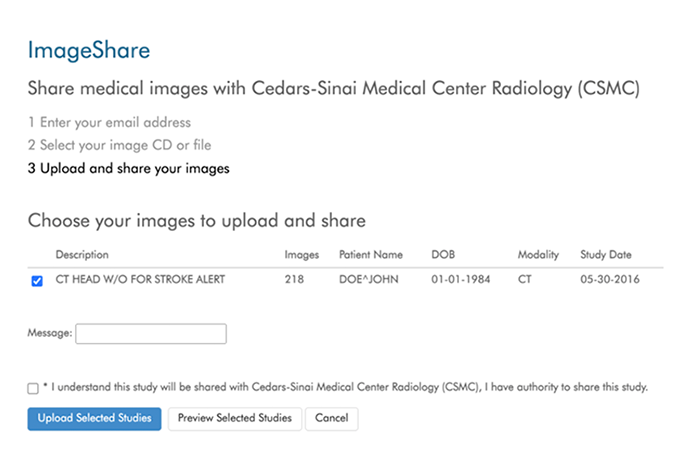 Confirmation
Once complete you will see a confirmation screen, which will also offer options on additional uploads.