February 2019 Case
Clinical Presentation
67 year old female with several years history of dyspnea on exertion.
Imaging: Chest X-ray
Demonstrates cardiomegaly with prominence of the central pulmonary arteries. There is no definite evidence of pulmonary edema or frank congestive failure. Findings are consistent with the effects of pulmonary arterial hypertension and cor pulmonare.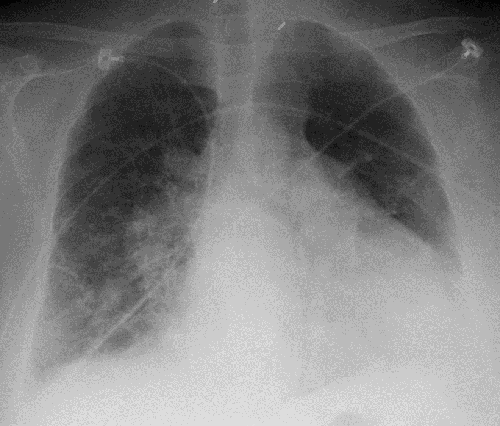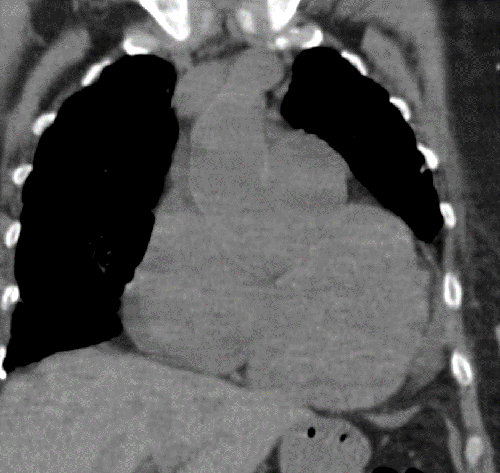 There is evidence of significant pulmonary hypertension manifested by enlargement of the main pulmonary artery at 3.6 cm and marked enlargement of right atrium and right ventricle.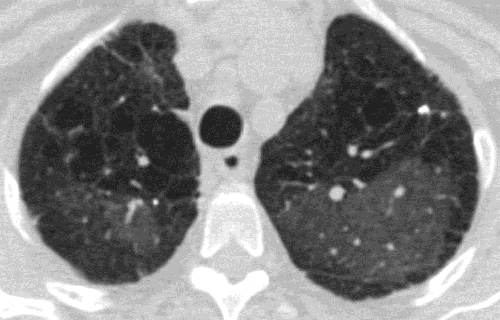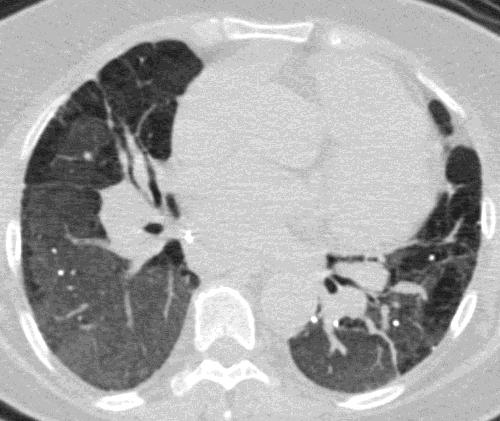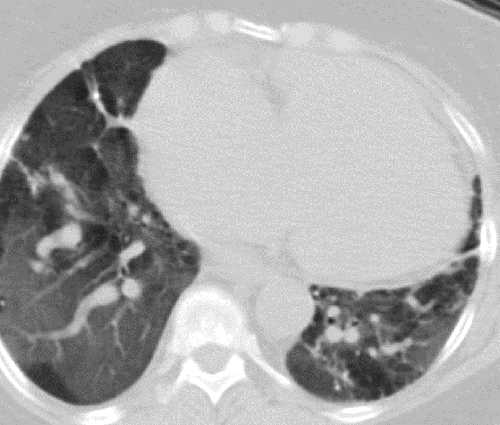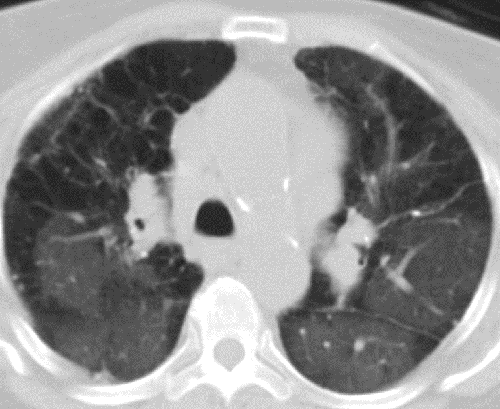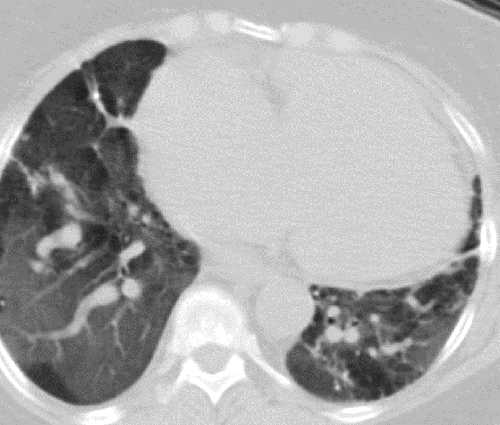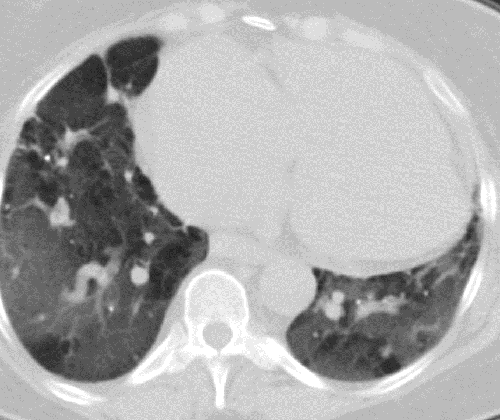 Evidence of emphysema at the lung apices. Extensive areas of geographic areas of ground glass attenuation are seen. Tortuosity of pulmonary arteries noted. No honeycombing seen to specifically suggest interstitial lung disease.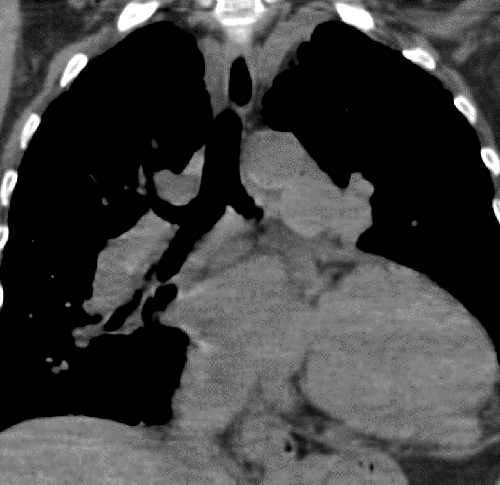 Also noted were enlarged mediastinal and hilar lymph nodes.
Imaging: VQ Scan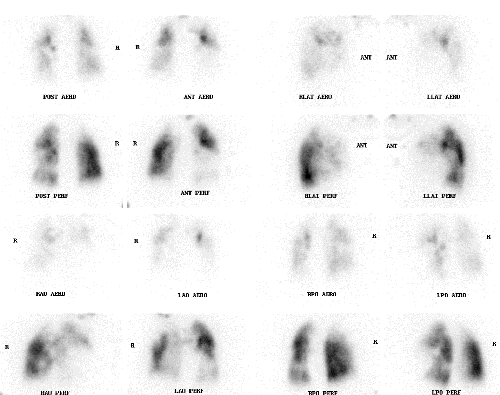 Matching abnormalities present throughout, however with overall perfusion is far superior to ventilation. No mismatched areas in which the ventilation is better than perfusion identified. Enlarged cardiac silhouette is noted.
Overall, VQ scan with very low probability for pulmonary embolus. Findings consistent with severe pulmonary parenchymal process with a moderate obstructive component.
Clinical course
Cardiac consultation confirmed pulmonary hypertension by echocardiogram and right heart catheterization.



Pulmonary function testing was consistent with obstructive/restrictive lung disease by pulmonary function testing with markedly reduced DLCO.
Her evaluations concluded that she had pulmonary hypertension that was likely secondary to a lung disease of unclear etiology. She began treatment for pulmonary hypertension with sildenafil as well as being started on high dose steroids.
Patient continued to progress with worsening cardiopulmonary status and overall systemic decompensation. She was eventually transitioned to comfort care status and expired soon afterward. An autopsy was performed.
Autopsy/Pathology Diagnosis Pulmonary Capillary Hemangiomatosis (PCH)
Characterized by proliferation of benign thin-walled capillary-sized blood vessels within the lung parenchyma, at least 2 layers thick.



Proliferating capillaries infiltrate the pulmonary interstitium and alveolar septae, walls of bronchi, arterioles, venules, and interlobular septae.
Discussion
PCH (and its cousin Pulmonary Veno-occlusive Disease PVOD) is a rare cause of pulmonary hypertension and may be clinically indistinguishable from some other causes of pulmonary hypertension such as primary pulmonary arterial hypertension PAH or chronic thromboembolic pulmonary hypertension. However, the diagnostic distinction is important to avoid inappropriate treatment with vasodilating medications typically used for PAH, as those agents can lead to life threating pulmonary edema in PCH/PVOD. Imaging may not be definitive or specific, but can contribute to raising the diagnostic suspicion for PCH/PVOD. High-resolution CT as the preferred modality for optimal radiological evaluation.
Imaging findings of PCH include those of pulmonary artery hypertension in general: enlarged pulmonary arteries and evidence of secondary right heart dysfunction (right ventricular hypertrophy, leftward bowing of the interventricular septum, right atrial enlargement, and reflux of IV contrast into the inferior vena cava/hepatic veins).
As PCH/PVOD is a capillary/post-capillary cause of pulmonary hypertension, additional findings can include smooth interstial thickening and geographic or nodular ground-glass opacities, which can be caused by elevated capillary pressure. When smooth septal thickening and/or ground glass opacities accompany findings of pulmoary hypertension, PCH and PVOD should be considered in the differential diagnosis. When ground glass is a more predominant feature than septal thickening, PCH can often be favored over PVOD. Additionally, mediastinal lymphadenapathy may be present with PCH more likely than with PVOD.
VQ scanning while sometimes done as part of the imaging workup, is not helpful for either confirming or excluding PCH. Findings can range from normal, to matched defects, to small perfusion mismatched defects, to large perfusion mismatched defects; and results can be considered normal up to high probabilibty for PE based on the VQ scan result.
References
Almagro P, Julia J, et al. Pulmonary Capillary Hemangiomatosis Associated with Primary Pulmonary Hypertension: Report of 2 New Cases and Review of 35 Cases from the Literature. Lippincott Williams & Wilkins. Medicine. 81, p417-424, 2002.
O'Keefe M, Post M. Pulmonary Capillary Hemangiomatosis: A Rare Cause of Pulmonary Hypertension. Archives Pathology Lab Med. Vol 139, February 2015.
Wick L, et al. Pulmonary Hypertension. Practical Pulmonary Pathology: A Diagnostic Approach. Elsevier Saunders, 2nd edition 2011: Ch 11: p375-390.
Frazier AA, Franks TJ, Mohammed TH, Ozbudak IH, Galvin JR. Pulmonary Veno-occlusive Disease and Pulmonary Capillary Hemangiomatosis. RadioGraphics 2007 27:3, 867-882. DOI: 10.1148/rg.273065194.
https://my.statdx.com/document/pulmonary-capillary-hemangiomatosis/a5597cb1-0955-4bc1-bc75-5bbb986b092f?searchTerm=Pulmonary Capillary Hemangiomatosis
Sharma R, Weerakkody Y, et al. Pulmonary veno-occlusive disease. Radiopaedia. https://radiopaedia.org/articles/pulmonary-veno-occlusive-disease-1 .
Chaisson NF, Dodson MW, Elliott CG. Pulmonary Capillary Hemangiomatosis and Pulmonary Veno-occlusive Disease. Clinics in Chest Medicine, 2016-09-01, Volume 37, Issue 3, Pages 523-534.