August 2019 Case
Presentation
Previously healthy 14-year-old female presents to the emergency room with nausea and vomiting for 4 days. She was initially seen at Glendale emergency department 3 days prior to presentation and was discharged with normal blood work and CT scan. She endorses 5 episodes of vomiting on the day of presentation, green in color but non-bloody. Labs show mild leukocytosis with bandemia. Initial imaging with abdominal radiographs are unremarkable. A barium upper GI study was obtained, representative image below.
Imaging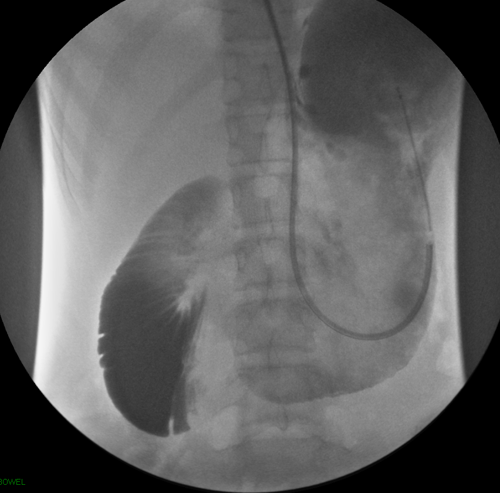 Upper GI demonstrated a distended stomach and duodenum with stasis of contrast at the third portion of the duodenum, in the expected location of the superior mesenteric artery (SMA), suggesting duodenal obstruction due to SMA syndrome. A CT scan was ordered to confirm diagnosis.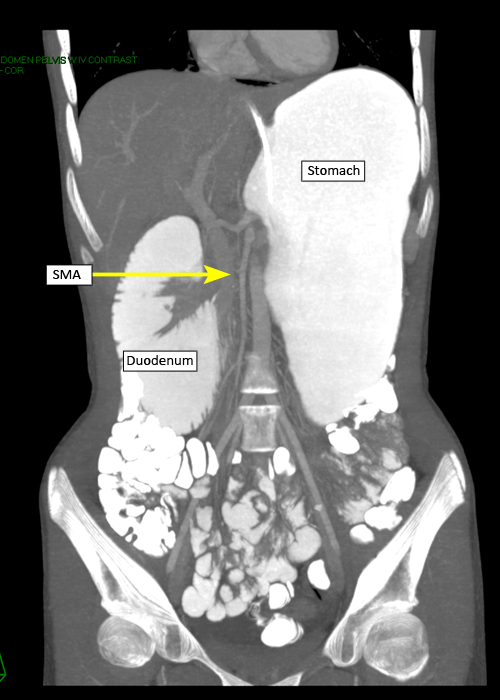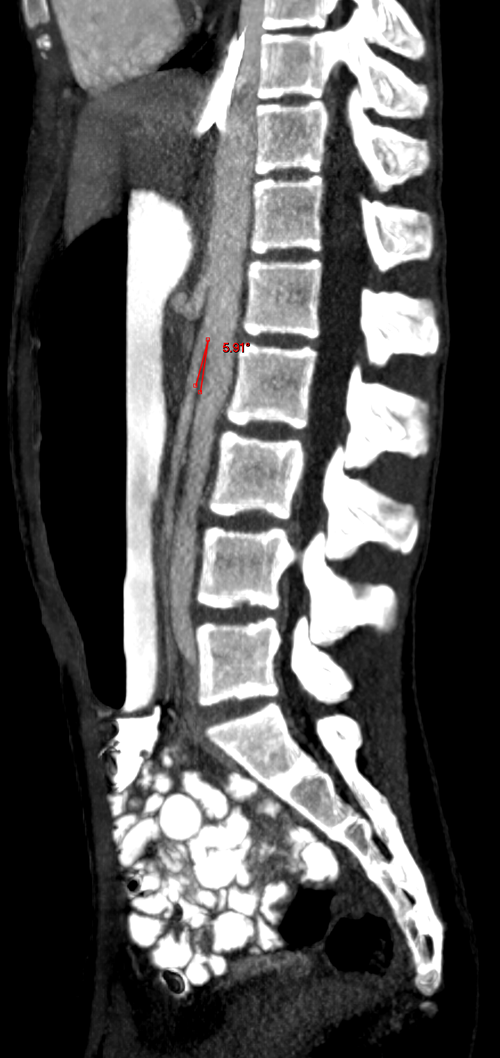 Discussion
CT demonstrated a distended stomach and duodenum with extrinsic compression of the third part duodenum at the point where the SMA crosses the duodenum. The SMA angle was approximately 6 degrees and aortomesenteric distance was 2 mm, compatible with SMA syndrome. A nasojejunal tube was placed and the patient was discharged with close outpatient follow-up.
SMA syndrome is a rare cause of duodenal obstruction usually secondary to acquired narrowing of the SMA angle due to rapid weight loss. Mesenteric fat that would usually support the bowel and SMA is lost in these patients leading to symptoms of duodenal obstruction including abdominal pain and bilious vomiting. Upper GI studies will show duodenal obstruction at the third part of the duodenum, CT will show reduced aortomesenteric distance of 2-8 mm and reduced SMA angle of 6-15 degrees. Treatment usually consists of conservative measures including jejunal feeding tube to build mesenteric fat, with surgical options such as duodenojejunostomy reserved for those who fail medical management.
Citations
Cohen LB, Field SP, Sachar DB. The superior mesenteric artery syndrome. The disease that isn't, or is it?. J Clin Gastroenterol. 1985;7(2):113-6.
Warncke ES, Gursahaney DL, Mascolo M, Dee E. Superior mesenteric artery syndrome: a radiographic review. Abdom Radiol (NY). 2019.