Myocardial Viability PET Scan
Before Your Exam
Do not eat or drink caffeine products (chocolate, soda, tea, coffee or Excedrin®) for 24 hours before exam. Note: Decaffeinated products contain caffeine.
Non-Diabetics: Do not eat or drink for 6 hours before your appointment. Water is okay.
Non Insulin-Dependent Diabetics: If you are on oral diabetes medications, please do not eat or drink after midnight. Water is okay. Also, if applicable: 
You may take Metformin (Glucophage®), Pioglitazone (Actos®) and Rosiglitazone (Avandia®) as scheduled. 
Reduce Sulfonylureas (e.g. Glimepiride, Glipizide, Glyburide) to a half dose on the morning of your study. 
Do not take Sitagliptin (Januvia®) or Saxagliptin (Onglyza®) on the morning of your appointment.
Insulin-Dependent Diabetics: Please follow your normal dietary schedule. Also, as applicable (Consult with your doctor regarding adjusting the insulin use recommendations below):
Reduce PM doses of insulin glargine (Lantus®) and Levemir® by half the evening before the study.
Reduce AM dose of intermediate or long-acting insulin (i.e. NPH, Levemir®, insulin combos, such as 70/30, 75/25, etc.) or Lantus® by half the morning of the study.
Take half basal dose of insulin pump on day of study.
Note: You should not take the following medications until right before you eat a normal meal: Nateglinide (Starlix®), Repaglinide (Prandin®), Pramlintide (Symlin ®), Exenatide (Byetta®), or Liraglutide (Victoza®).
We want to make your waiting time as pleasant as possible. Consider bringing your favorite magazine, book or music player to help you pass the time.

Please leave your jewelry and valuables at home.
During Your Exam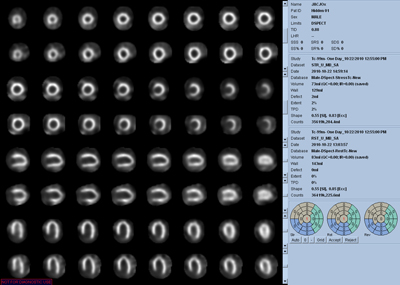 Your approximate visit time will be 3-4 hours.
Upon arrival, the technologist will explain your procedure and answer any questions you may have.
You will receive an intravenous injection (in your vein) of a tracer dose of radioactive material.
The level of radioactivity is extremely low and has no side effects.
You will be asked to wait approximately 1-2 hours before the scan begins.
Your scan will take approximately one hour.
During that time you will be required to lie flat on your back, without moving.
Using a special nuclear medicine scanner, pictures of your body will be obtained. The scanner does not produce any radiation; it simply detects and records the distribution of the radioactive material in your body.
After Your Exam
There are no post-exam instructions.

Your study will be reviewed by an imaging physician specialist and the results sent to your physician. Your physician will discuss these results with you and explain what they mean in relation to your health.

To request a copy of your report, call (310) 423-8000.
The S. Mark Taper Foundation Imaging Center provides a full range of advanced imaging, both radiology and cardiology, as well as interventional radiology and interventional tumor (oncology) treatments to the greater Los Angeles area, including Beverly Hills, Encino, Mid-Cities, Santa Monica, Sherman Oaks, Silver Lake, Studio City, Toluca Lake, and West Hollywood.