Myocardial Perfusion PET Stress Test
This exam is also known as a Rubidium PET.
Exercise stress, pharmacological stress testing (Thallium, Sestamibi), vasodilator stress (adenosine, regadenoson), and dobutamine stress have the same preps, but vary in the time it takes to complete the study.
Your doctor has requested a PET Myocardial Perfusion (MP) Stress Test, also called a Rubidium PET. This procedure evaluates the blood flow (perfusion) through the coronary arteries to the heart muscle using a radioactive tracer. The completed exam consists of intravenous access, resting images, a stress test (performed by use of a medication-- no exercise or treadmill), and stress imaging. Our team of cardiac imaging physicians, nurse practitioners, technologists, and ECG technologists is headed by Daniel Berman, MD, chief of Cardiac Imaging and Nuclear Cardiology.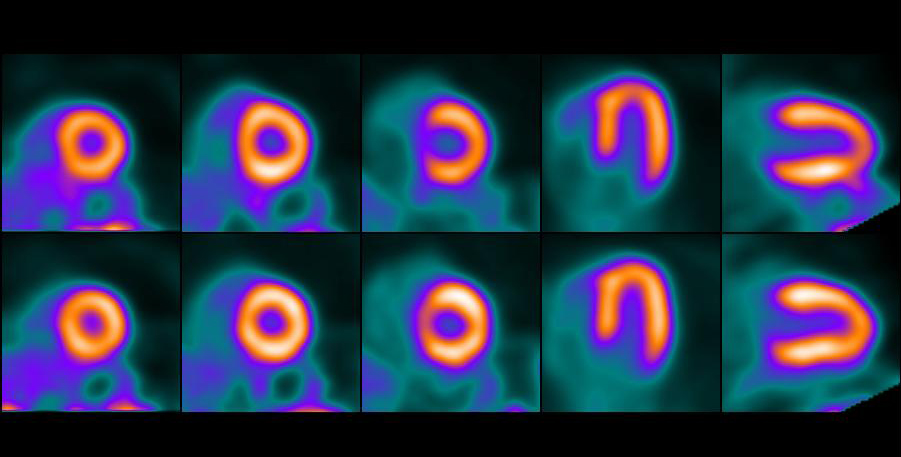 Before Arriving for Your Exam
Do not eat or drink for 3 hours before your appointment. Drinking water is okay.
Do not eat or drink caffeine products (chocolate, soda, tea, coffee or Excedrin®) for 24 hours before exam. Note: Decaffeinated products contain caffeine.
Consult your physician about going off beta blockers for 48 hours and calcium channel blockers 24 hours before your exam.
Bring all your medications or a list of them with doses.You must fast 3 hours before your appointment time, except plain water.
Please allow two to three hours for the entire exam.
As you will be asked to change into a hospital gown, please wear loose, comfortable clothing.
We want to make any waiting time as pleasant as possible. Please consider bringing your favorite magazine, book or music player to help you pass any time you may need to wait.
Please leave your jewelry and valuables at home.
During Your Exam
The technologist will explain the procedure to you and answer any questions you may have.
You will receive several injections through a temporary IV.
You will be prepared for electrocardiogram tracings by EKG technologists, assessed and monitored by nurse practitioners and/or physicians, and imaged by a team of cardiac specialists.
Once cleared by the nurse practitioner and/or physician, the imaging and stress test will be performed while laying flat on the imaging table with your hands behind your head. Your time under the scanner will be approximately 30 to 45 minutes.
At the end of your scan, images will be reviewed and you will be released.
After Your Exam
There are no post-exam instructions.
Your study will be reviewed by an imaging physician specialist and the results will be sent to your physician. Your physician will discuss these results with you and explain what they mean in relation to your health.