Transvaginal Ultrasound
Ultrasound is a safe and painless procedure that uses sound waves to "see" inside your body and create detailed images which the physician can study. At the Cedars-Sinai S. Mark Taper Foundation Imaging Center, we have an expert team of physicians, nurses and technologists who are highly trained in ultrasound imaging.
Before Your Exam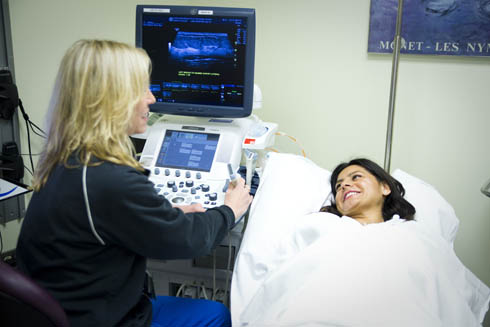 This exam can be performed during menstruation. If you are menstruating and wearing a tampon, you will need to remove the tampon before the test.
Drink 32 ounces of any liquid one hour before your examination time. Try to drink all the liquid within 30 minutes.
Do not urinate before the exam. Arrive for your exam with a full bladder.
If your doctor gave you an order, please bring it with you.
We want to make your waiting time as pleasant as possible. Please consider bringing your favorite magazine, book or music player to help you pass any time you have to wait.
Although there are lockers with locks for your use, we recommend that you leave your jewelry and valuables at home.
During Your Exam
Upon arrival, you will be asked to change into a hospital gown.
Once in the examination room, the diagnostic medical sonographer will explain your procedure and answer any questions you may have.
You will be positioned on your back on the exam table, with your legs raised — just like for a pelvic exam.
A small, lubricated probe, called a transducer, will be inserted into your vagina. The transducer is inserted like a tampon. The transducer is larger than a tampon, but smaller than the speculum that your doctor uses for a pelvic exam.
During the exam you will feel a light amount of pressure. You may be requested to lie still, change positions, hold your breath or just breathe normally.
Sound waves will pass harmlessly through the skin from the transducer. The sound waves bounce off certain organs and tissue in the body. This creates "echoes." The echoes are reflected back to the transducer. A television monitor shows images as the transducer converts the echoes to electrical signals. These moving images may be viewed immediately, recorded and/or photographed for physician review.
Occasionally the radiologist may request additional images.
Your procedure will take approximately 30 to 60 minutes.
After Your Exam
Your study will be reviewed by a imaging physician and the results sent to your doctor. Your doctor will discuss these results with you and explain what they mean in relation to your health.
If you have problems related to your procedure, please call 310-423-8000.
For more information or to schedule an appointment, please call 310-423-8000.
If you have uterine fibroids, call 310-423-2468 today for a consult about uterine fibroid embolization, a minimally invasive treatment for uterine fibroids.
Transvaginal Ultrasound Images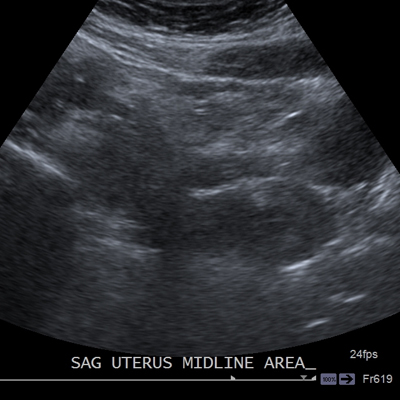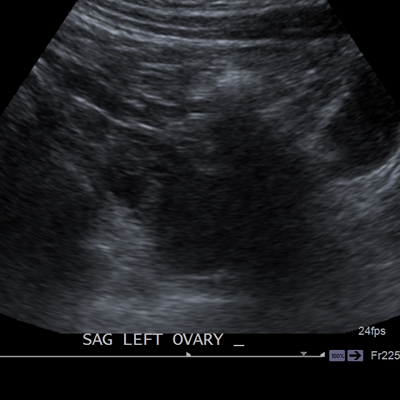 Conventional ultrasound images of the pelvis and ovary structures.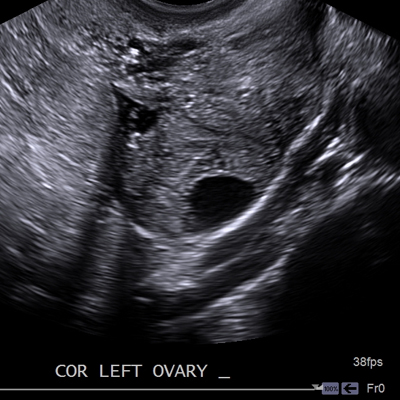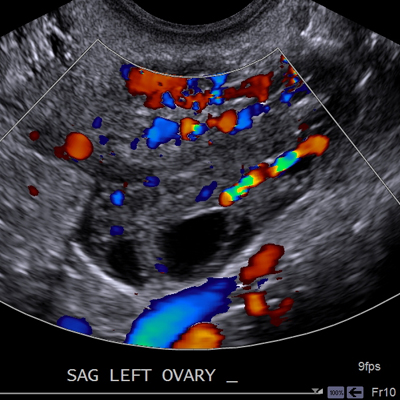 Transvaginal ultrasound images showing the pelvis and ovary structures with far greater clarity. The colored areas show blood flow.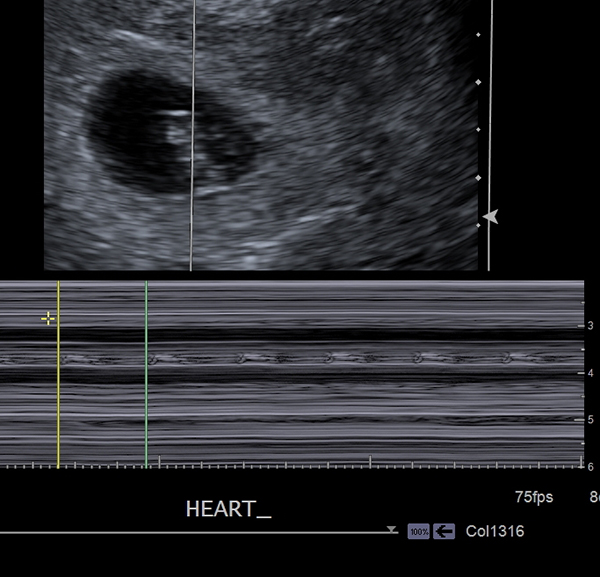 A transvaginal ultrasound showing the heartbeat of a fetus early in a pregnancy. The lines at the bottom are called M Mode, which is how imaging specialists detect and document heart motion.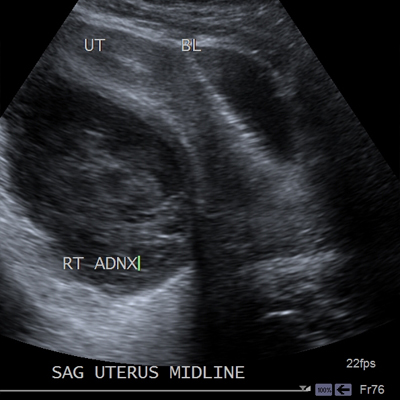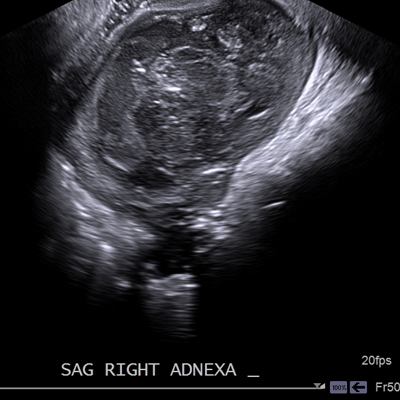 An adnexal mass in the pelvis shown with traditional ultrasound. Below right: an adnexal mass shown more clearly with a transvaginal ultrasound.
The S. Mark Taper Foundation Imaging Center provides a full range of advanced imaging, both radiology and cardiology, as well as interventional radiology and interventional tumor (oncology) treatments to the greater Los Angeles area, including Beverly Hills, Encino, Mid-Cities, Santa Monica, Sherman Oaks, Silver Lake, Studio City, Toluca Lake and West Hollywood.