Adler/Nail and
Cedars-Sinai

Research for Women's Cancers P.E.T. Center
Innovative Detection of an Array of Conditions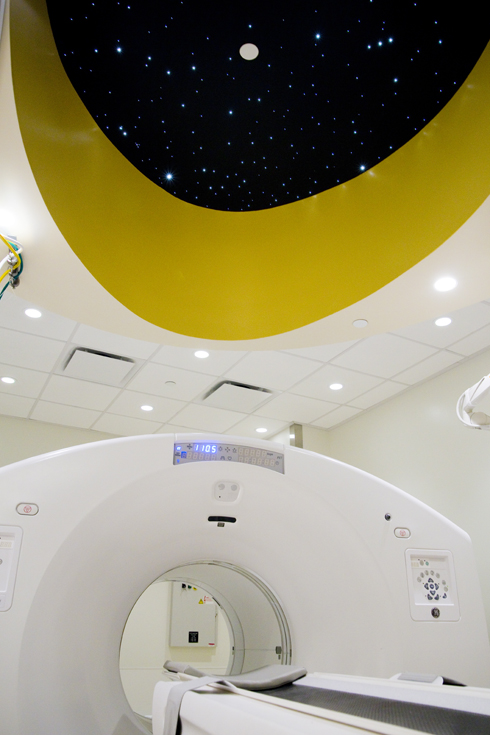 As part of the S. Mark Taper Foundation Imaging Center at Cedars-Sinai, the new, state-of-the-art AdlerNail and Cedars-Sinai Research for Women's Cancers P.E.T. Center offers precision diagnostic capabilities using nuclear medicine positron emission tomography (PET) and PET/CT (computed tomography) for men, women and children. The newly renovated center opened in June 2014. These innovative, noninvasive procedures use sophisticated scanners, computers and molecular probes to produce three-dimensional, real-time images of the body's anatomy and function. The AdlerNail and Cedars-Sinai Research for Women's Cancers P.E.T. Center is led by Louise Thomson, MD and Alessandro D'Agnolo, MD, co-chiefs of Nuclear Medicine. 
Due to the sensitivity of PET, and the fact that it measures metabolic activity as well as structure, PET can often detect signs of disease before other imaging techniques may visualize a problem. It can be used to determine the presence and severity of cancer, neurological conditions such as Alzheimer's disease or cardiovascular disease, as well as monitor the effectiveness of cancer treatment and detect recurrences. A CT scan allows the visualization of body structures. A PET/CT scanner combines these scans, for a more accurate reading and placement of potential disease.
A Caring Team of Experts Dedicated to Your Well-Being
The center's team of imaging specialists works closely with referring physicians to offer each patient the most thorough diagnostic imaging available. These skilled and caring specialists help you understand the procedures you are about to undergo and answer any questions you may have. Team members include nuclear medicine specialists, imaging cardiologists, radiologists, nuclear pharmacists, nurse specialists, and technologists.
The Science of Positron Emission Tomography
Positron emission tomography (PET) detects gamma rays emitted when positrons from a radioactive tracer, which is injected, collide with electrons in the body's tissues. The PET scanner moves you through a circular gamma ray detector that translates the pairs of gamma ray photons emitted from the colliding positrons and electrons into electronic, cross-sectional slices of your body. These individual slices are brought together into a detailed, 3D image that allows physicians to see how organs, tissues and cells are functioning. The PET injection material is metabolized like sugar, allowing us to see how the cells work in the body through this technology. For this reason, PET is often referred to as molecular imaging.
What Is PET/CT?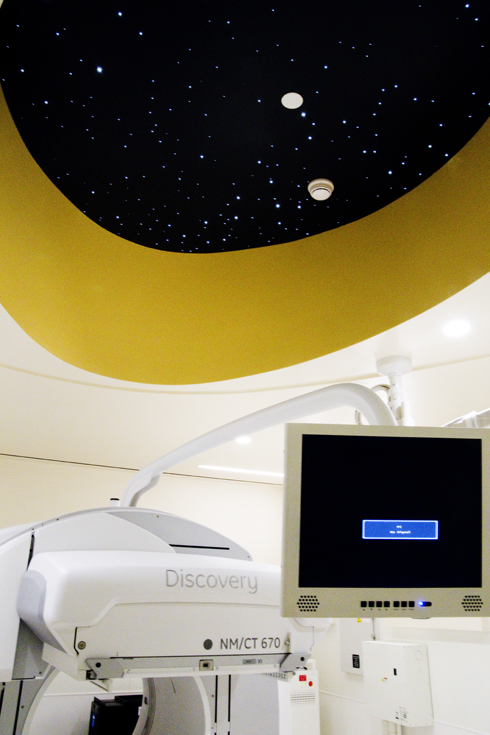 The PET/CT scanner combines premier technology from two imaging modalities: positron emission tomography (PET) and computed tomography (CT). This combination makes it possible to fuse anatomic information from the CT scan with molecular imaging information provided by PET imaging. With this technology, not only can abnormal cell function be detected, it can be anatomically mapped with great precision.
Fusion Imaging
In addition to PET and PET/CT, the AdlerNail and Cedars-Sinai Research for Women's Cancers P.E.T. Center offers fusion imaging. This technology combines molecular imaging from PET scans with images from other modalities, such as CT and magnetic resonance imaging (MRI), to improve diagnostic accuracy.
A Faster, More Reliable Way of Imaging
The AdlerNail and Cedars-Sinai Research for Women's Cancers P.E.T. Center uses the fully integrated picture archive and communications system (PACS), allowing the center to be filmless. PACS stores screening and diagnostic images electronically as digital data, providing patients and physicians with less waiting time, faster examinations and no lost films. Physicians can receive vital images directly to their computer within moments of a patient's examination. The center even provides patients with a complimentary PC-compatible computer disk of their tests.
Expert Diagnosis
PET and PET/CT are precise diagnostic tools for any area of the body. The AdlerNail and Cedars-Sinai Research for Women's Cancers P.E.T. Center's world-renowned specialists expertly and safely implement these tools for a variety of procedures, including:
Where There's Research, There's Progress
Researchers at the AdlerNail and Cedars-Sinai Research for Women's Cancers P.E.T. Center are conducting innovative studies to test new agents to detect disease processes more effectively than current technology. The center uses the finest technical equipment available to perform these studies, including new generation PET and SPECT systems, as well as powerful computers to perform detailed analysis. These studies provide insight into a number of diseases, including heart disease, cancer, Alzheimer's disease and infections.
The S. Mark Taper Foundation Imaging Center provides a full range of advanced imaging, both radiology and cardiology, as well as interventional radiology and interventional tumor (oncology) treatments to the greater Los Angeles area, including Beverly Hills, Encino, Mid-Cities, Santa Monica, Sherman Oaks, Silver Lake, Studio City, Toluca Lake and West Hollywood.