FDG-PET Scan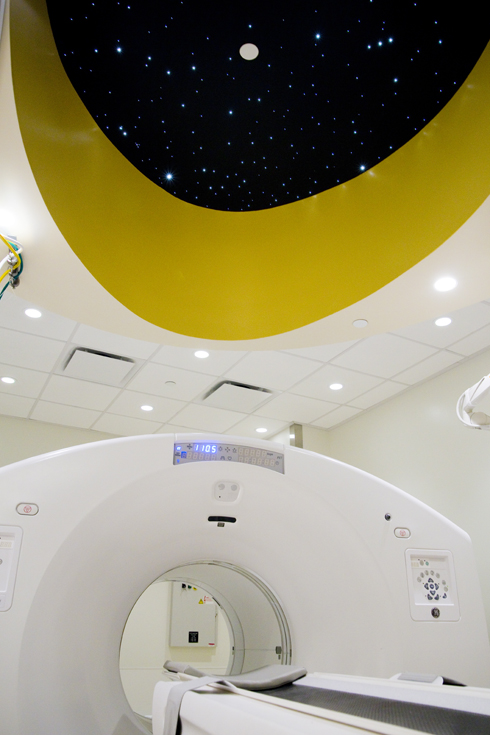 Your doctor has ordered a FDG-PET scan. Those abbreviations stand for: fluorodeoxyglucose (FDG)-positron emission tomography (PET). The role of this procedure is to detect metabolically active malignant lesions including lung cancer, colorectal cancer, lymphoma, melanoma, breast cancer, ovarian cancer, brain cancer and multiple myeloma. FDG-PET scan may also be used to stage and monitor the response to therapy of malignant disease.
Before Your Exam
48 hours before your exam, do not do any strenuous exercise or deep-tissue massage. Please do not eat carbohydrates or sugar (i.e. bread, pasta, potato, rice or ready-made shakes) for 24 hours prior to your exam. Please do not eat or drink anything for 6 hours prior to your appointment time, except plain water and medication.
If your doctor gave you an order, please bring it with you.
We want to make your waiting time as pleasant as possible. Consider bringing your favorite magazine, book or music player to help you pass the time.
Please leave your jewelry and valuables at home.

During Your Exam
Upon arrival, the technologist will explain your procedure and answer any questions you may have.
You will receive an intravenous injection (in your vein) of a tracer dose of radioactive material.
The level of radioactivity is extremely low and has no side effects.
You will be asked to wait approximately one to two hours before the scan begins.
Your scan will take approximately one hour.
During that time you will be required to lie flat on your back, without moving.
Using a special nuclear medicine scanner, pictures of your body will be obtained. The scanner does not produce any radiation; it simply detects and records the distribution of the radioactive material in your body.
After Your Exam
Do not hold or nap with infants for 10 hours after your injection.

If you are breastfeeding, do not breastfeed for 24 hours post injection.

Stay 3-6 feet away from young children and pregnant women for 6 hours post injection.

Your study will be reviewed by an imaging physician specialist and the results sent to your physician. Your physician will discuss these results with you and explain what they mean in relation to your health.
For more information or to schedule an appointment, please call 310-423-8000.
The S. Mark Taper Foundation Imaging Center provides a full range of advanced imaging, both radiology and cardiology, as well as interventional radiology and interventional tumor (oncology) treatments to the greater Los Angeles area, including Beverly Hills, Encino, Mid-Cities, Santa Monica, Sherman Oaks, Silver Lake, Studio City, Toluca Lake and West Hollywood.