DaTscan
Diagnosing Parkinson's Disease
SPECT brain scans using Ioflupane I 123 injections (DaTScan®) are the first and only FDA-approved aid in differentiating a relatively benign condition, essential tremor, from Parkinsonian syndromes (PS). In Europe, DaTscan has been in clinical use for ten years and has been used in nearly 300,000 patients worldwide.
In clinical exams, the signs and symptoms of PS can be misleading or mimic other conditions, such essential tremor, especially during the early stages of the disease and in the elderly, leading to uncertain diagnoses. DaTscan can help reduce that uncertainty.
Parkinsonian syndromes are associated with dopamine transporter (DaT) loss in the striata. Ioflupane I 123 is a radiopharmaceutical indicated for striatal DaT visualization using SPECT brain imaging to assist in the evaluation of adult patients with suspected PS. Ioflupane I 123 binds to the DaT protein on dopaminergic nigrostriatal neurons, a bundle of nerve fibers in the brain. In a normal scan, Ioflupane I 123 is distributed in the striata and appear as mirrored "comma" or crescent shapes. A decrease in Ioflupane I 123 activity results in a circular "period" or oval shape(s) and reduced image intensity on one or both sides.
DaTscan can help differentiate essential tremor from tremor due to idiopathic Parkinson's disease, multiple system atrophy, progressive supranuclear palsy or dopaminergic disorders. For patients with dementia, DaTscan has been successfully used in Europe to distinguish Alzheimer's disease from a dementia called Lewy Body disease. The ability to accurately diagnose such conditions has important implications for determining which medications to prescribe.
Why Choose the S. Mark Taper Foundation Imaging Center for a DaTscan?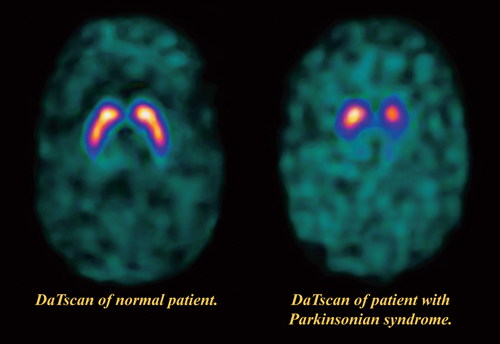 The S. Mark Taper Foundation Imaging Center provides a full range of advanced imaging, both radiology and cardiology, as well as interventional radiology and interventional tumor (oncology) treatments to the greater Los Angeles area, including Beverly Hills, Encino, Mid-Cities, Sherman Oaks, Silver Lake, Studio City, Toluca Lake, and West Hollywood.