Cisternogram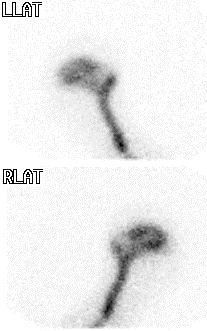 This test is used to diagnose a cerebrospinal fluid (CSF) leak. It can be ordered with pledgets (for CSF leaks of the head) or without (for spinal leaks or normal-pressure hydrocephalus).
Patients: Please do not eat or drink anything for eight hours before this study. Your physician and interventional radiologist will provide you with other information about the study.
Indications
CSF leaks
CSF blockages
CSF circulation problems
Normal-pressure hydrocephalus
Preparation
Patient must be NPO (no food or drink) six hours prior to the lumbar puncture.
Scheduling
Cisternograms with pledgets can be complex to schedule because it requires coordination between the patient's referring physician, the Interventional Radiology Division and the S. Mark Taper Foundation Imaging Center.
Because the patient requires a lumbar puncture to occur six hours before imaging can take place. The lumbar puncture should be performed in the morning, as early as possible.
Here is an outline of the timing of the procedure:
Cisternogram with Pledgets
Beginning:
Location: Interventional Radiology Division on the eighth floor of the North Tower of

Cedars-Sinai

Medical Center
Patient receives the radiopharmaceutical through a lumbar puncture (LP)
Two hours after LP:
Location: patient's MD's office - NOT the S. Mark Taper Foundation Imaging Center
Pledgets placed
Location: S. Mark Taper Foundation Imaging Center
Blood is drawn
Six hours after LP:
Location: S. Mark Taper Foundation Imaging Center
Blood drawn again
Pledgets removed
Imaging performed
24 hours after LP:
Location: S. Mark Taper Foundation Imaging Center
Imaging may occur a second time, per the request of the physician
Cisternogram Without Pledgets
Beginning:
Location: Interventional Radiology Division on the eighth floor of the North Tower of

Cedars-Sinai

Medical Center
Patient receives the radiopharmaceutical through a lumbar puncture (LP)
Six hours after LP:
Imaging at the S. Mark Taper Foundation Imaging Center
24 hours after LP:
Imaging at the S. Mark Taper Foundation Imaging Center
48 hours after LP:
Imaging at the S. Mark Taper Foundation Imaging Center
72 hours after LP:
Imaging at the S. Mark Taper Foundation Imaging Center