Viscosupplementation
Although viscosupplementation is becoming a common form of minimally invasive treatment for osteoarthritis (OA), it must be done correctly to achieve its full effectiveness. The fellowship-trained musculoskeletal radiologists at the S. Mark Taper Foundation Imaging Center have extensive training and experience with viscosupplementation for the treatment of OA. Current treatments for OA, such as analgesics, anti-inflammatories and corticosteroids, often lead to complications. NSAID may cause GI symptoms, Cox 2 inhibitors may lead to myocardial infarction, and acetaminophen may lead to acetaminophen-related liver toxicity.

No preparation is required for viscosupplementation
Promising Treatment
The injection of hyaluronic acid into the knee joint mimics healthy, young synovial fluid in terms of molecular weight, elasticity and viscosity. The injection helps lubricate the joint. Viscosupplementation works well across a spectrum of OA, reduces pain, is well tolerated, has a low complication rate, long-term effectiveness, and has no significant systemic adverse events. Candidates for viscosupplementation include elderly patients across the OA spectrum, younger patients with mild to moderate OA, and patients with late-stage OA before total knee replacement (TKR).  Patients who are too young for TKR, cannot take NSAIDS, or who have multiple comorbidities may be considered for viscosupplementation.
Incorrect injection into knee (left). Correct intra-articular injection into knee (right).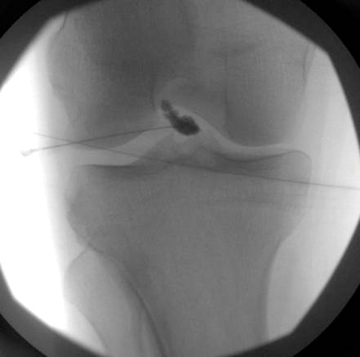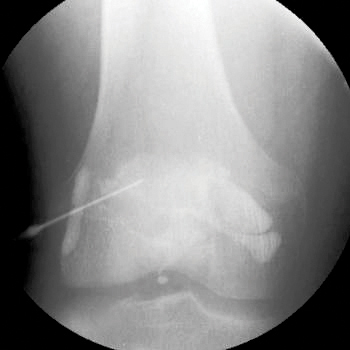 Precise Technique Maximizes Probability of Success
Precise technique is required to maximize the effectiveness of viscosupplementation. Unlike steroids that have a local effect, hyaluronic acid must be intra-articular (IA). If the injection is into the soft tissue, discomfort is increased and effectiveness significantly decreased. Therefore, an experienced musculoskeletal radiologist should be selected to perform the procedure. Board-certified and fellowship-trained radiologists Thomas J. Learch, Joseph C. Giaconi and Joseph Robinson at the S. Mark Taper Foundation Imaging Center, and Andrew Spitzer, MD, of the Cedars-Sinai Department of Orthopaedic Surgery have extensive experience with the procedure. Our musculoskeletal radiologists have extensive experience in IA injections and with imaging guidance can ensure correct IA placement of medications including visosupplements, steroids and anesthetics.
Promise for Other Joints: Shoulder, Hip, Wrist
Viscosupplementation also shows great promise for the treatment of OA in the shoulder, hip and wrist. Our musculoskeletal radiologists have extensive experience with injections of all joints, including the knee, hip, wrist and shoulder, and plan to continue to study the most effective methods for using it to treat debilitating joint conditions.
Incorrect injection into hip (left). Correct intra-articular injection into hip (right).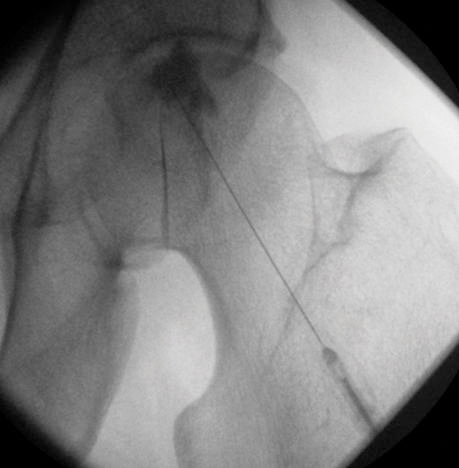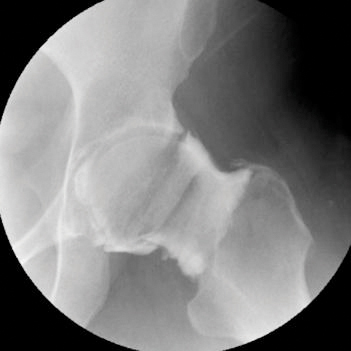 For more information or to schedule an appointment, please call 310-423-8000.
The S. Mark Taper Foundation Imaging Center provides a full range of advanced imaging, both radiology and cardiology, as well as interventional radiology and interventional tumor (oncology) treatments to the greater Los Angeles area, including Beverly Hills, Encino, Mid-Cities, Sherman Oaks, Silver Lake, Studio City, Toluca Lake and West Hollywood.