Musculoskeletal Radiology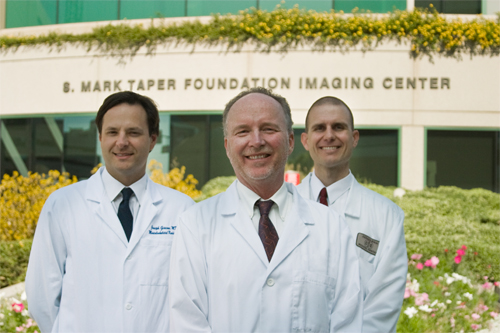 Musculoskeletal imaging concentrates on the skeleton, ligaments, muscles and joints, using CT, MRI, ultrasound and X-ray.
Our Musculoskeletal Imaging Program is under the direction of Thomas J. Learch, MD, (center) who is fellowship-trained in musculoskeletal imaging. He leads a team of subspecialized physicians, including Joseph C. Giaconi, MD, and Joseph L. Robinson, MD, (left and right) nurses and technologists who specialize in musculoskeletal imaging. The program offers a full spectrum of service, including CT, MRI, arthrography, ultrasound, bone biopsies and bone mineral density studies. Our specialists work closely with orthopedists, rehabilitation specialists and oncologists to provide the finest care available. Our subspecialty-trained specialists treat the full range of conditions affecting bones, ligaments, muscles and joints, including disorders of the spine and upper and lower extremities, arthritis, and benign and malignant tumors of the soft tissue and bones.
For a musculoskeletal CT or MRI scan, you can speed up the registration process by printing and filling out a pre-registration form before you arrive.
The Musculoskeletal Imaging Program offers: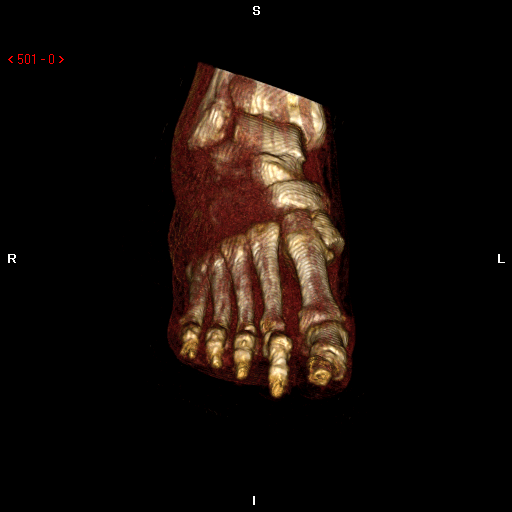 At right: a volume rendering (VR) of a three-dimensional set of computed tomography (CT) images shown as a two-dimensional projection. In this case, extremely thin slices were created from the original scan and sent to a separate computer, which transformed them into these 3-D images. The images were used for surgical planning to repair fractures and to show the patient what was wrong with their foot and how it was going to be fixed.
Directions and Parking Information
Why choose the S. Mark Taper Foundation Imaging Center for musculoskeletal studies and treatments?
For more information or to schedule an appointment, please call 310-423-8000.
The S. Mark Taper Foundation Imaging Center provides a full range of advanced imaging, both radiology and cardiology, as well as interventional radiology and interventional tumor (oncology) treatments to the greater Los Angeles area, including Beverly Hills, Encino, Mid-Cities, Sherman Oaks, Silver Lake, Studio City, Toluca Lake and West Hollywood.