Tumor Ablation Procedure Information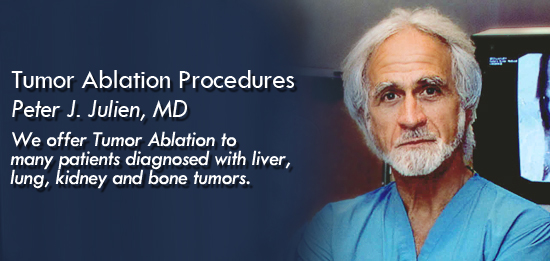 Tumor ablation is a minimally invasive procedure used to treat liver, lung, kidney, bone and spine tumors. During a microwave, alcohol, radio-frequency or cryo- ablation, an imaging physician uses a CT scanner — a high-tech version of an X-ray — to precisely locate a tumor and then guides a specialized needlelike probe into it. Microwaves, alcohol, radio waves or a freezing agent are sent through this probe, heating, freezing or in another fashion killing the tumor.
Studies have shown that tumor cells can be killed if they are brought to a temperature of 113 degrees Fahrenheit (this is less than the temperature in many home water heaters) or by freezing the tumor. At the S. Mark Taper Foundation Imaging Center our team of highly trained physicians, nurse practitioners, registered nurses and technologists are led by Peter J. Julien, MD.

What Are Some Advantages of Microwave Ablation?
Some advantages of microwave tumor ablation include:
CT- or ultrasound-guided for increased accuracy
Faster, which shortens anesthesia times
Ability to treat larger tumors, as well as tumors as small as 2 millimeters
Fewer smaller probes, which leads to fewer complications
Simultaneously targets up to three tumors with independent control of each probe
Expanded treatment area allows microwaving of tumors close to major arteries and veins
Lower recurrence rates
Specially designed kidney and bone probes
First lung probe approved by the U.S. Food and Drug Administration
Minimal risk to patient
Typically little or no pain
Short hospital stay
The procedure can be repeated if new cancer appears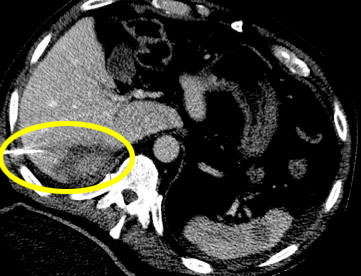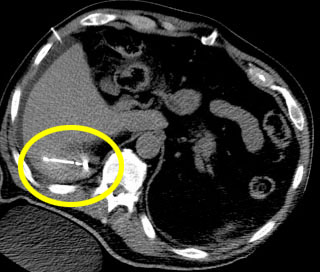 CT images of a microwave ablation of a follicular thyroid cancer in a 75-year-old male. The yellow circles show where the microwave probe was inserted precisely into the tumor.
Before Deciding on Tumor Ablation
If you and your physician decide to have tumor ablation at the S. Mark Taper Foundation Imaging Center, you need to schedule a consultation with one of our interventional imaging physicians and a nurse practitioner.
They will discuss the procedure with you in detail, including the risks and benefits, and whether you are a good candidate for this procedure. They will answer any question you may have.
If it is determined that this procedure meets your medical needs, the procedure will be scheduled and you will be given a set of instructions to help you prepare for the procedure.
During the consultation, the nurse practitioner will ask your medical history, including all of the medications you are taking and any allergies you may have.
Approximately one to two weeks before your procedure, you will be asked to stop any medications that thin the blood. Your primary-care physician will instruct you which medications to stop and when to stop them. Do not stop taking any prescribed medication unless instructed to do so by your physician.
You may need additional blood tests or additional scans prior to the procedure.
For more information contact Kristi Butenschoen, nurse practitioner of interventional and neuroradiology, at 310-423-8694.
Before Coming to
Cedars-Sinai

for Your Tumor Ablation
Please bring your medications or a detailed list of your medications — including dosage and how often you take the medicine — to your procedure. This includes any over-the-counter medications you may take on a regular basis.
You will be staying in the hospital overnight, so please bring anything that you will need during that time.
Please arrange for transportation home after your discharge the day after your ablation; you will not be allowed to drive yourself home.
You should not eat anything after midnight the night before your procedure. You may take your routine morning medications (except blood thinners) with a sip of water.
After Arriving at
Cedars-Sinai
Please check in at the South Tower information desk, on Gracie Allen Drive across the street from the Emergency Department.
A nurse will escort you to an observation room.
You will be asked to change into a hospital gown and will receive a brief clinical assessment, such as blood pressure and pulse.
During the Ablation
At the appropriate time, you will be transported to the interventional CT scan room, where you will be greeted by the radiology nurse, technologist, interventional imaging physician and anesthesiologist.
The imaging physician will explain the procedure to you again, including the risks and benefits, and answer any questions you may have. You will then be asked to sign a form giving your informed consent for the procedure.
If an IV has not been started, the anesthesiologist will start an IV and speak to you about the medications to be used for pain control and to make you sleepy during the procedure (a state referred to as "twilight sleep.") When treating the lungs, the imaging physician may need you to be able to follow simple instructions such as holding your breath. The medications you will be given will most likely prevent you from remembering anything of the procedure, and pain will be controlled.
You will be placed on the CT scan table and positioned according to the area of your body to be treated. You will be made as comfortable as possible.
Monitoring devices will track your blood pressure, heart rate, breathing and amount of oxygen in your blood during the procedure.
You may experience some discomfort during the insertion of the ablation probe. You will not feel pain once the probe is in place, and you will not feel any heat during the procedure.
The procedure, from the time you get to the imaging department (CT scan suite) until you return to the Observation Unit, lasts approximately two hours. The actual heating of the tumor will only last between 12 and 16 minutes. The bulk of the time is used in accurately placing the probe in the correct area to destroy the tumor.
After the Procedure
You will be given another CT scan while still in the procedure room to assess the area that was ablated.
You will then be taken back to the observation unit, where you will stay overnight.
You will be visited by the interventional imaging physician and the nurse practitioner, who will check for any complications and see that you are comfortable. You may have post-procedure blood drawn, X-rays or both.
Before discharge, the nurse practitioner will arrange follow-up appointments and give you instructions for your recovery. Remember: you will need someone to drive you home from the hospital.