Embolization - Kidney
Embolization is a minimally invasive treatment, which is usually used to treat benign (non-cancerous) masses in the kidney. To embolize means to block an artery or vein. During an embolization procedure, small particles are injected through a catheter into a mass. These particles block blood flow to the mass, taking away its supply of oxygen and nutrients.  This causes the mass to  die and shrink.
In May, 2018, this procedure was performed on First Lady Melania Trump to treat a benign kidney mass.
How is the Procedure Performed?
Marc L. Friedman, MD, chief of Vascular and Interventional Radiology, and a team of imaging physicians, highly trained technologists and nurses perform this procedure in a hospital setting. Using X-ray guidance, a specially trained interventional radiologist inserts a thin tube, called a catheter, into an artery in the groin. Once the catheter is positioned in the branches of the artery that are feeding the mass, the embolization particles are injected, specifically targeting the mass. Additional X-rays will be taken to confirm that the mass has been treated. At the end of the procedure, the catheter will be removed and the tiny opening in the skin is then covered with a dressing. No sutures are needed.
Before Your Procedure
You will be contacted by a member of our team the day before your exam (between 4 and 6 p.m.) and given instructions on how you should prepare and what time you should arrive. If you are not contacted, please call 310-423-0108 early in the morning of your procedure (such as 6 a.m.)
You should have your doctor's office fax all orders and lab results to 

Cedars-Sinai

 the day before your procedure: 310-423-0108.
You should plan to arrive two hours before your scheduled procedure (three hours if you have not had all your pre-op lab work done).
You should not eat anything from the midnight before your procedure.
You should consult with your physician about taking your regular medications prior to your exam. Some, such as Coumadin or Plavix, should not be taken before your procedure.
You will not be allowed to drive after the procedure, so you should arrange for someone to help you get home.
We want to make your waiting time as pleasant as possible. Consider bringing your favorite magazine, book or music player to help you pass the time.
Please wear comfortable clothing.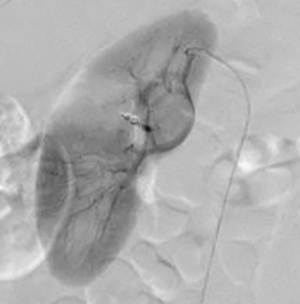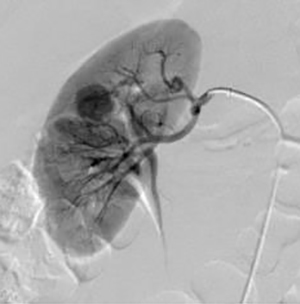 After Arriving
You will meet with an imaging physician who will explain the procedure to you and answer any questions you might have.
After this discussion, you will be asked to sign a consent form for the procedure.
You must notify the nurse, technologist and/or imaging physician of any allergies you may have, or if you are pregnant, prior to your exam.
A small sample of blood might be drawn for testing.
After Your Procedure
Some patients will need to stay in the hospital overnight. This will be decided once your procedure is done. 
You should be prepared with a ride home.
 An imaging physician will review the images from your exam and write a report of the findings.
Your referring physician will be sent this report and will discuss the results with you.
The S. Mark Taper Foundation Imaging Center provides a full range of advanced imaging, both radiology and cardiology, as well as interventional radiology and interventional tumor (oncology) treatments to the greater Los Angeles area, including Beverly Hills, Encino, Mid-Cities, Sherman Oaks, Silver Lake, Studio City, Toluca Lake and West Hollywood.