Interventional Radiology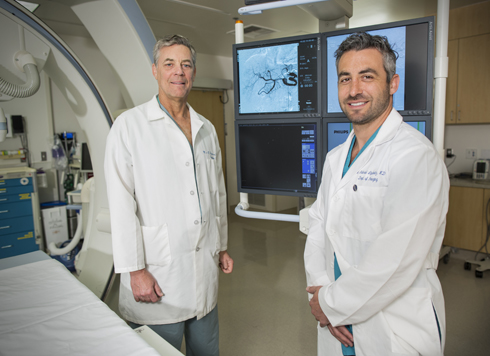 Our interventional radiologists are board-certified physicians who specialize in minimally invasive, image-guided treatments. Interventional radiologists pioneered these minimally invasive techniques to treat many conditions that once required traditional surgery and are now treated with typically less risk, less pain and a shorter recovery time than open surgery. 
During these procedures, our physicians along with their expert team of nurses and technologists use X-rays, CT, ultrasound and advanced imaging techniques to direct a thin tube or catheter to a specific location in the body to diagnose or treat disease. The accuracy of this targeting often allows the treatment to be done with less damage to the surrounding healthy tissue than traditional surgical methods.
Why choose the S. Mark Taper Foundation Imaging Center for interventional radiology?
For specific information, links below offer detailed descriptions of the most common interventional radiology procedures performed at the S. Mark Taper Foundation Imaging Center:
Please follow this link to see a video about our interventional procedures. Some of the video is only for patients staying in the hospital. But much of it will be helpful to those who just come to our imaging center for this exam.
If your study or procedure is not listed, for general information about preparing for an interventional radiology study or procedure, please click here. In general:
Do not eat or drink after midnight before procedure. 
Morning of procedure, take blood pressure and/or heart medications with a sip of water unless told otherwise.
You will not be allowed to drive after procedure so please arrange transportation.
Ask your doctor about discontinuing aspirin or blood thinners seven days before procedure.
Tell the staff if you have NOT had lab work or are on any medication.
Between 4 and 5:30 pm the day before, we will call you with the full preparation instructions. If you are not called by 5:30 pm, please call us at 310-423-2468.
Needed by noon the day before an exam: Written orders, H&Ps (within last 30 days), pre-op labs (within two weeks; CBC, BMP [basic metabolic panel] and PT/PTT).
For more information or to schedule an appointment, please call 310-423-8000.
Below: transcatheter arterial chemoembolization for a hepatocellular carcinoma (liver cancer). In the far left image, the catheter is visible as a thin black line at the bottom right of the image, near the spine.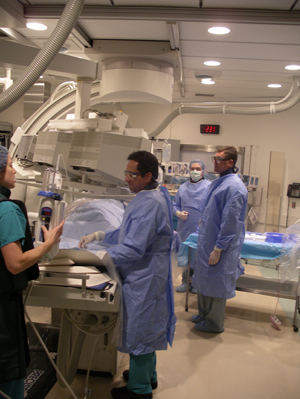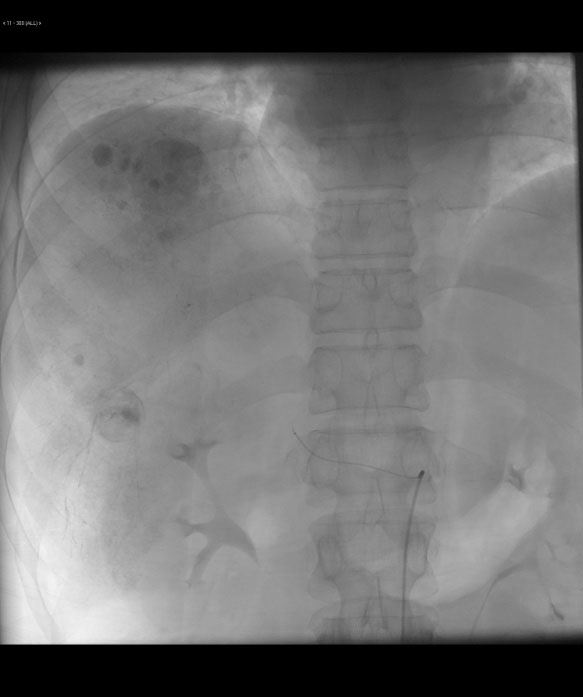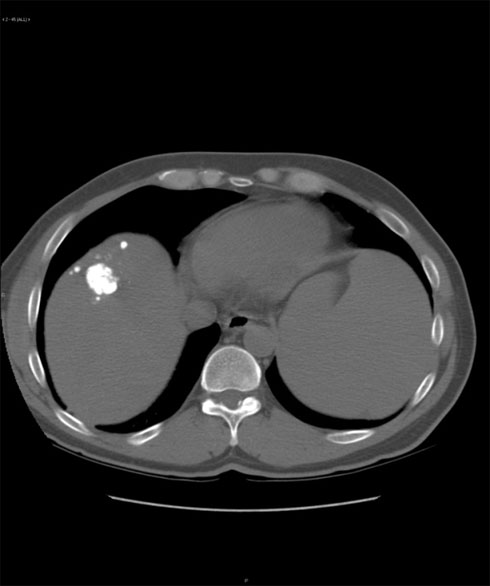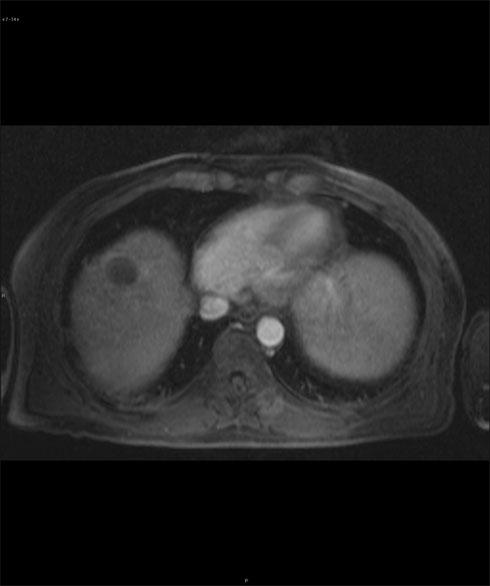 The S. Mark Taper Foundation Imaging Center provides a full range of advanced imaging, both radiology and cardiology, as well as interventional radiology and interventional tumor (oncology) treatments to the greater Los Angeles area, including Beverly Hills, Encino, Mid-Cities, Sherman Oaks, Silver Lake, Studio City, Toluca Lake and West Hollywood.