Neurointervention (Endovascular Radiology)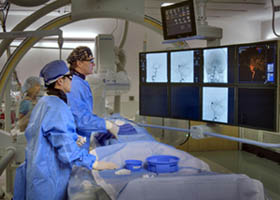 The ability of neurovascular surgeons to evaluate problems in the blood vessels of the brain has been greatly enhanced by the new 3D angiographic imaging suite at Cedars-Sinai Medical Center.
The new unit allows interventional surgeons to more accurately navigate catheters (tubes) through the blood vessels. The unit creates a 3D virtual reality road map in the patient's brain.
In this image, an interventional procedure is shown in multiple views on an eight-panel flat screen. Physicians can view different aspects of the study at the same time.
Benefits of 3D Angiographic Imaging
The new angiographic imaging suite offers a number of benefits:
More complex vascular problems that could not be visualized well with older imaging systems can now be diagnosed and treated at the

Cedars-Sinai

Neurovascular Center
Flat panel detectors are used that provide fine detail resolution for better images of the inside of arteries in the brain
Images of the arteries at the base of the skull can be created better. In the past, the thick bones of the skull made it difficult or impossible for older systems to get images of these arteries.
Improved Visualization and Precision of Neurovascular Problems
The new suite allows the use of improved software. 
This new software lets neuro-interventionalists more exactly assess how much an artery has been narrowed. It allows the neurovascular interventionalist to more accurately see the percentage and length of the blockage in the artery. 
This greater precision makes it possible for the neurovascular surgeon to more effectively plan the size of the stent and its exact placement in the brain.
Expanded Imaging Capabilities
The angiographic imaging suite at Cedars-Sinai can do computed tomography (CT) scans and angiograms. This means that a patient doesn't need to move to a different imaging room for a CT. Treatments are more convenient for both patient and physician.

The improved imaging means that fewer pictures -- and thus less radiation -- are needed to capture diagnostic information.