Aneurysm - What is It?
Your doctor has recommended you for an aneurysm coiling. Franklin Moser, MD, (below left) Director of Interventional Neuroradiology heads our team of imaging physicians, nurses and technologists who specialize in this procedure. Our team also includes Marcel Maya, MD, (below right) Co-Chair of Imaging.
What is an Aneurysm?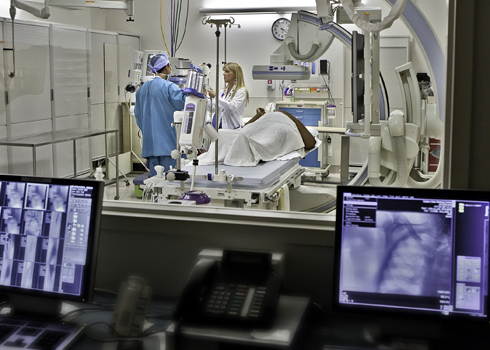 An aneurysm is an abnormal outpouching of an artery's wall. Aneurysms affecting the arteries supplying the brain can cause a stroke. If the aneurysm ruptures, blood flows into the space surrounding the brain called the subarachnoid space. A patient with a subarachnoid hemorrhage usually suffers a severe headache followed by nausea, vomiting, irritation and lethargy. Double vision, neck stiffness, weakness, loss of sensation, and loss of consciousness can also occur.
How is an Aneurysm Detected?
Several imaging techniques, such as x-ray angiography, MRI or CT, are used to detect aneurysms. An aneurysm may be small and not cause symptoms. Symptoms of an aneurysm depend on where it is located. Aneurysms in the brain can cause impaired vision and headaches. The larger an aneurysm becomes, the more likely it is to burst.
How are Aneurysms Treated?
Interventional neuroradiologists perform detachable coil embolization to alleviate much of the danger presented by aneurysms. The interventional neuroradiologist inserts a thin, hollow tube, called a catheter, into an artery in the leg. This catheter is then maneuvered through the body to the aneurysm's position. Once in position, the radiologist places one or more small coils through the catheter into the aneurysm. The body responds by forming a blood clot around the coil blocking off the aneurysm. The coils are designed to remain anchored within the aneurysm and do not require eventual removal.
Why Choose the S. Mark Taper Foundation Imaging Center for Interventional Neuroradiology procedures?
Before Arriving for Your Procedure
You will be contacted by a member of our team the day before your procedure (between 4:30 and 6:30 p.m.) and given instructions on how you should prepare and what time you should arrive. If you are not contacted, please call (310) 423-4125 early in the morning of your procedure (such as 6 a.m.).
You should have your doctor's office fax all orders and lab results to

Cedars-Sinai

the day before your procedure: (310) 423-0108.
You should plan to arrive two hours before your scheduled procedure (three hours if you have not had all your pre-op lab work done.)
You should not eat or drink anything from the midnight before your procedure.
You should consult with your physician about taking your regular medications before your exam. Some medications (such as the blood thinners Coumadin or Plavix) should not be taken before your procedure.
You will not be allowed to drive after the procedure, so you should arrange for someone to take you home.
We want to make your waiting time as pleasant as possible. Consider bringing your favorite magazine, book or music player to help you pass the time.
Please leave your jewelry and valuables at home and please wear comfortable clothing.
After Arriving
You will meet with an imaging physician who will explain the procedure to you and answer any questions you might have.
After this discussion, you will be asked to sign a consent form for the procedure.
You must notify the nurse, technologist, and/or imaging physician of any allergies you may have, or if you are pregnant, prior to your exam.
A small sample of blood will be drawn for testing.
After Your Procedure
You will be brought to the Intensive Care Unit for 24-hour observation and in most cases discharged the following day.
The area around the injection site in your groin may be sore for a few days after the procedure. You may use an ice pack for 15 minutes every hour to help with the pain.
Use a cloth to make sure the ice or cold-pack isn't directly touching your skin.
You may also feel a tugging sensation at the puncture. This is normal and will subside.
The bandage on the wound should remain on overnight. You may shower the next day. Keep the area around the wound clean.
Increase activity slowly and carefully. Please do not lift anything heavy (75 lbs) for 10 days.
You should have instructions from your physician about restarting any of the medications that you stopped for the procedure.
Our interventional radiologist and/or nurse practitioner will follow-up with you and your primary care physician.
The S. Mark Taper Foundation Imaging Center provides a full range of advanced imaging, both radiology and cardiology, as well as interventional radiology and interventional tumor (oncology) treatments to the greater Los Angeles area, including Beverly Hills, Encino, Mid-Cities, Sherman Oaks, Silver Lake, Studio City, Toluca Lake, and West Hollywood.