MRI for Endometriosis
Endometriosis is a condition that affects women. It can cause pain in the lower part of the belly and trouble getting pregnant.
In endometriosis, cells that are similar to the inner lining of the uterus grow outside of the uterus (see image below). It is not known exactly how or why this happens. This tissue, which does not belong outside the uterus, can then break down, bleed and cause symptoms such as pain and cramping.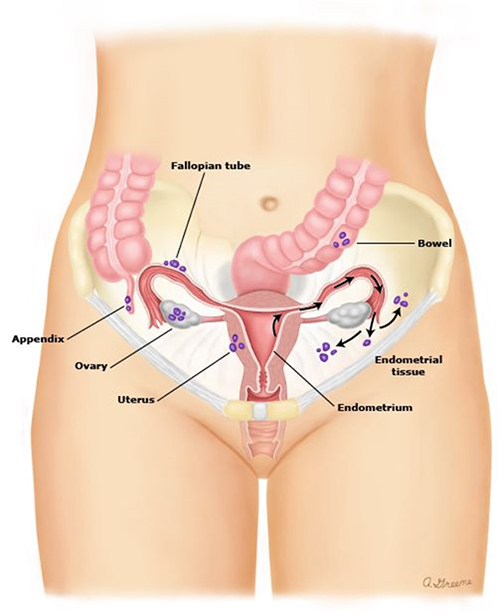 Your doctor has ordered an MRI (magnetic resonance imaging) exam to detect sites of deep endometriosis in the pelvis, which can help with surgical planning. Once these sites are surgically removed, you should have fewer symptoms. MRI is often used in addition to pelvic ultrasound as MRI can help detect smaller sites of endometriosis, especially along the bowel and pelvic ligaments. An MRI exam is necessary because deeper structures are difficult to see by ultrasound.
Cedars-Sinai imaging specialists have more than 20 years of experience in accurately identifying endometriosis using MRI. The MRI exam will allow us to look closely at the pelvic organs, including the uterus, ovaries, bladder, bowel and surrounding spaces. 
Do not eat any food or drink any liquids four to six hours before your MRI exam. Once you arrive, we will start an IV and administer an intravenous contrast (Gadolinium-based). In addition, your doctor may request that a vaginal or rectal gel be inserted before the exam. The gel allows for better distention, which helps improve visualization of the pelvic organs.
The MRI exam will take about 45-60 minutes to complete. You will be able to go home as soon as the exam is over.
For more information or to make an appointment, please call 310-423-8000.
The S. Mark Taper Foundation Imaging Center provides a full range of advanced imaging, both radiology and cardiology, as well as interventional radiology and interventional tumor (oncology) treatments to the greater Los Angeles area, including Beverly Hills, Encino, Mid-Cities, Sherman Oaks, Silver Lake, Studio City, Toluca Lake, and West Hollywood.