Gastrointestinal Radiology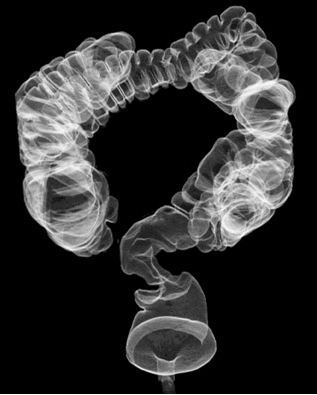 For further information, links are listed below to detailed descriptions of the most common gastrointestinal radiology procedures performed at the S. Mark Taper Foundation Imaging Center.
For certain studies, you can print and fill out registration forms before you arrive to speed up your registration process: Pre-Registration Questionnaires
For general gastrointestinal preparation instructions, please click here. For instructions about specific studies, please click on the names below:
Abdomen X-ray, frequently used for the initial evaluation of a patient with significant abdominal pain.
Barium enema is an examination of the colon to assess a change in bowel habits, abdominal pain, rectal bleeding, diverticulitis or suspected masses.
Barium enema with air contrast may be used to examine the colon to assess symptoms, including: a recent change in bowel habits, abdominal pain or rectal bleeding. Compared to a barium enema, the air contrast examination offers increased sensitivity for the detection of polyps and small masses.
Barium swallow: please see Esophagram
MRI Defecography allows radiologists to directly see detailed images of the anatomy of the pelvic floor structures, which allows analysis of anatomy and function. Studies have shown that Dynamic Pelvic MRI is more sensitive than physical examination, making it the gold standard for diagnosing pelvic floor disorders.
Esophagram (barium swallow)
CT Colonography (virtual colonoscopy) is a non-invasive method of imaging the colon for pre-cancerous lesions, as well as colorectal cancer. It requires a mild colon prep and utilizes computed tomography to obtain images, which are then reviewed on a special workstation. It is frequently compared to optical colonoscopy.
Evacuation proctogram (defecography) is used to help diagnose a wide range of pelvic floor problems, including: anal or pelvic pain, difficult defecation, sensation of incomplete emptying, constant sensation of a full rectum, constipation, feeling of "something" coming out of the anus or vagina as a patient strains, or stool leakage. This study is performed by a team of subspecialists led by John Bray, MD.
Fistulagram - abdominal is used to diagnose an abnormal opening in the digestive track that allows the contents to leak out.
Gastric emptying measures the speed with which food leaves the stomach and enters the small intestine. Gastric emptying studies are done to diagnose symptoms that may be related to slow or rapid emptying of the stomach.
Intravenous pyelogram involves the intravenous injection of an iodinated contrast to examine the kidneys, ureters and bladder.
Pouchography is a contrast examination of the rectal pouch your doctor has created.
Upper GI tract study uses a special form of X-ray (fluoroscopy) and an orally ingested contrast material, usually barium sulfate to examine the pharynx, esophagus, stomach and duodenum. An upper GI examination helps in the detection of abnormalities of the esophagus, stomach and duodenum, including ulcers, scarring, tumors, blockages, hiatal hernia, reflux or inflammation. The procedure is also used to help diagnose symptoms including difficult or painful swallowing, severe indigestion, chest and abdominal pain, blood in stool or unexplained vomiting.
Upper GI with small bowel examination adds the evaluation of the small bowel to the traditional upper GI examination and usually takes two to four hours.
Vaginography is a fluoroscopic examination of the vagina after the injection of contrast.
Video swallow study is done in conjunction with our experts from speech therapy to evaluate the different phases of the swallowing process. Some of the more common indications are unexplained cough, difficult or painful swallowing or suspected aspiration.
Retrograde voiding cystourethrogram requires placement of a bladder catheter and is used frequently in children to evaluate the cause of urinary tract infections, including vesicoureteral reflux, bladder or urethral abnormalities.
Voiding cystourethrogram uses X-rays to produce images of the bladder and urethra. This study may be used to evaluate recurrent infection, frequent or painful urination, urinary incontinence or difficult urination.
 For more information or to schedule an appointment, please call 310-423-8000.