Coronary Calcium Scan
A coronary calcium scan can be a good first step towards ensuring a healthy heart. What a perfect gift for someone you love.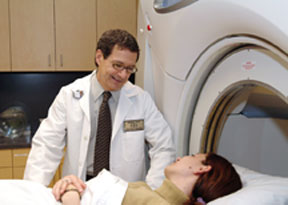 A Warning Before Symptoms Appear
A coronary calcium scan (CCS) is a noninvasive exam which looks for specks of calcium (called calcifications) in the walls of the coronary arteries. The coronary arteries are the vessels that supply oxygen-containing blood to the heart wall. Calcium is an early sign of coronary artery disease. The calcium score gives an idea of whether coronary artery disease is present despite a lack of symptoms or is likely to develop in the next few years.
Most people who suffer heart attacks have only average or slightly elevated cholesterol. In people with cholesterol levels as low as 180, heart attack is still the leading cause of death. Many people with plaque deposits often do not have any symptoms. This is why a coronary calcium scan is so important. This simple test can provide an early warning of coronary artery disease before experiencing any cardiac symptoms.
A coronary calcium scan is simple and easy. The patient is in a prone position in the scanner machine and there are no injections. The test involves two breath holds and takes only about five minutes. To measure how much calcium has accumulated in the coronary arteries, we use a state-of-the-art, 128-slice, dual-source CT scanner which is many times faster than a conventional CT scanner.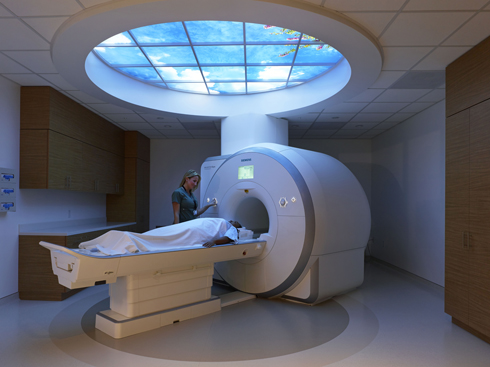 Who Should Have a Coronary Calcium Scan?
This screening is for women over 55 and men over 45 with the following risk factors:
Family history of heart disease
Abnormal cholesterol levels
High blood pressure
Smoking
Obesity
Diabetes
Unhealthy lifestyle
What is included?
128-slice dual source CT scanner
Same-day electronic reporting
If you have scheduled a consultation, after your exam you will meet with an imaging doctor board-certified in cardiology. A final written report will be sent to the patient (if requested at the time of service) and the designated cardiologist or other doctor within 72 hours of the test.
The S. Mark Taper Foundation Imaging Center provides a full range of advanced imaging, both radiology and cardiology, as well as interventional radiology and interventional tumor (oncology) treatments to the greater Los Angeles area, including Beverly Hills, Encino, Mid-Cities, Santa Monica, Sherman Oaks, Santa Monica, Silver Lake, Studio City, Toluca Lake and West Hollywood.