CT Brain/Neck Angiography
Your doctor has recommended you for computed tomography angiography (CTA) of your brain or neck. A CT scanner uses a combination of a high-tech X-ray scanner and sophisticated computer analysis to provide detailed, 3D images of the blood vessels in your body, such as those in the brain, neck, kidneys and legs. It can be used to identify weakened sections of arteries or veins and to visualize blood flow. CT Angiography provides your physicians with more-precise images of your blood vessels than either MRI or Ultrasound technology. Our team of subspecialty imaging physicians is led by Franklin Moser, MD, clinical chief of Interventional Neuroradiology.
Below: 3D computed tomography images of the Circle of Willis, which is composed of the blood vessels that supply blood to the brain. The outline of the brain can be seen in the image on the right, with the neck at the bottom and the major arteries in white.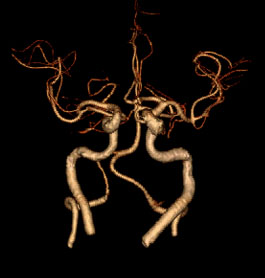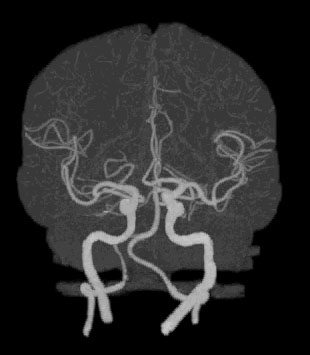 Before Arriving for Your Exam
Continue taking all of your current medications. Do not take Viagra®, Cialis® or Levitra® for 48 hours before exam.
Because you will need to wear a hospital gown for your exam, wear clothing that can be changed easily.
Leave all jewelry and valuables at home.
If your doctor gave you an order, please bring it with you.
Though we do not anticipate any delays in your exam, please consider bringing a book, magazine or music player to help you pass the time while you are waiting.
After Arriving
A radiology nurse or technologist will ask you a few questions regarding your medical history.
Please tell the technologist, radiology nurse and/or physician of any allergies you may have before your exam, or if you are or might be pregnant.
You will be asked to change into a hospital gown and a nurse or technologist will insert a small IV in your arm.
During Your Exam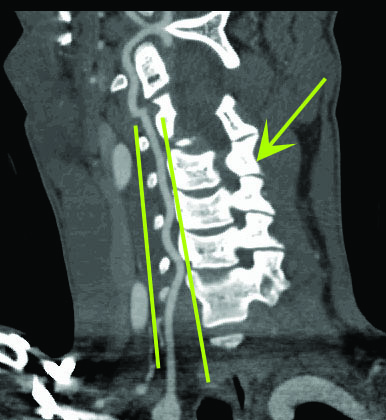 While positioning you on an exam table, the technologist will explain your procedure and answer any questions you may have.
If contrast dye is being used, it will be injected through your IV.
During the injection, you may experience a warm sensation all over your body and a metal taste in your mouth. This is normal.
If you experience any itching, sneezing, nasal congestion, scratchy throat or swelling of your face, please notify the technologist immediately.
The exam table will slide into the scanner, only covering the part of your body which is being studied. The scanner is open at the back and the front, allowing you to see out.
The technologist will always be able to see and hear you during your exam.
You may be asked to hold your breath for a short time while the scanner takes a series of pictures. The time it takes to actually acquire images is very brief.
The images will be reviewed, and if necessary, some may be repeated.
This procedure usually takes approximately 15-30 minutes. Your total time commitment will be approximately an hour and a half.
After Your Exam
You may resume your normal diet.
If you received an injection of contrast dye, you should drink six to eight glasses of water to flush it out of your system.
An imaging physician will examine your images and write a report of their findings. This report will be sent to your physician, usually within 24 hours. Some scans require more computer processing, and these may take longer to analyze.
Your physician will contact you with the results of your exam.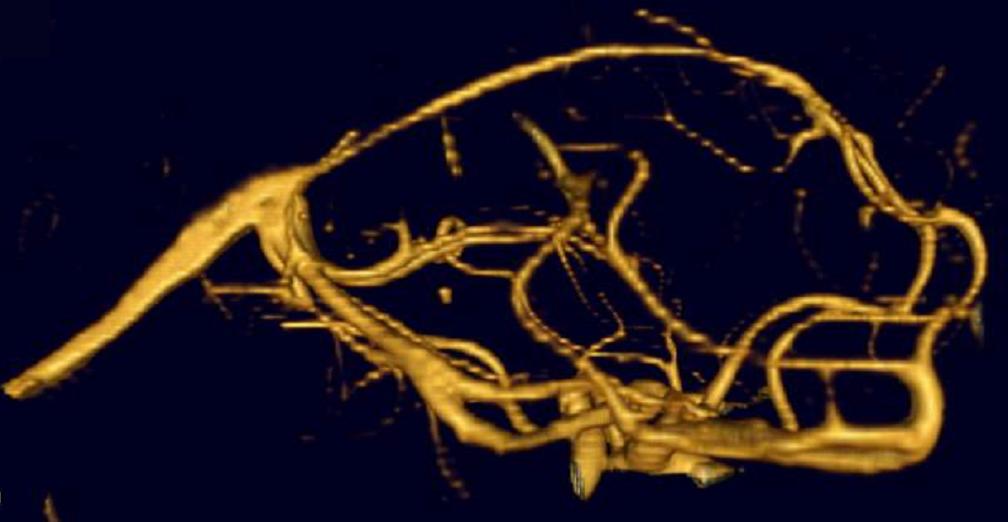 For more information or to schedule an appointment, please call 310-423-8000.
The S. Mark Taper Foundation Imaging Center provides a full range of advanced imaging, both radiology and cardiology, as well as interventional radiology and interventional tumor (oncology) treatments to the greater Los Angeles area, including Beverly Hills, Encino, Mid-Cities, Santa Monical, Sherman Oaks, Silver Lake, Studio City, Toluca Lake and West Hollywood.