Cardiac Imaging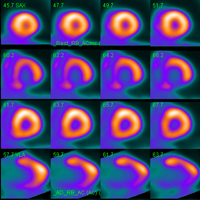 At the Cedars-Sinai S. Mark Taper Foundation Imaging Center, we have a wide range of imaging technologies designed to image the heart and the coronary arteries. Our team of fellowship-trained cardiac imaging physicians specialize in the interpretation of cardiac exams. Our team is led by Daniel S. Berman, MD, FACC. In addition to our clinical practice, we are also involved in ongoing research projects. Cardiac imaging techniques and technologies developed at Cedars-Sinai are in use around the world. In addition we use minimally-invasive procedures to both image and treat certain diseases of the heart and blood vessels.
Why choose the S. Mark Taper Foundation Imaging Center? 

There are several types of cardiac exams and procedures, depending on what type of imaging technology is being used: 
Nuclear cardiology: This uses a tracer to track blood flow or cellular activity in the heart and coronary arteries.
Computed tomography (CT): This uses X-rays and advanced computing to create detailed images of the heart and coronary system.
Magnetic resonance: This uses a magnet and computer analysis to show the structure and movement of the heart.
Nuclear Cardiology
Among the nuclear cardiology exams that we offer are:
Computed Tomography (CT)
Among the computed tomography exams that we offer for cardiac imaging are:
Coronary calcium scan (with or without consult)
Coronary CT angiography (Similar studies include: thoracic aorta with coronary angiography, pulmonary vein imaging, cardiac anatomic structure and valve replacement planning imaging)
Magnetic Resonance Imaging
Among the magnetic resonance exams that we offer for cardiac imaging are:
Cardiac MRI/MRA (Similar studies with the same preps include cardiomyopathy / myocarditis, left ventricular function and viability, specific Q, and congenital studies)
Cardiac stress test (stress perfusion - vasodilator, pharmacologic) (same preps as for myocardial perfusion SPECT/PET)
For more information or to schedule an appointment, please call 310-423-8000.
The S. Mark Taper Foundation Imaging Center provides a full range of advanced imaging, both radiology and cardiology, as well as interventional radiology and interventional tumor (oncology) treatments to the greater Los Angeles area, including Beverly Hills, Encino, Mid-Cities, Sherman Oaks, Silver Lake, Studio City, Toluca Lake and West Hollywood.