Ultrasound or Mammography Guided Localization
Your doctor has requested an ultrasound or mammographically guided breast needle localization. The purpose of this procedure is to help the breast surgeon pinpoint the correct area in your breast for surgery. This is done by placing dye and usually a small wire at the point of the abnormality. A highly-trained medical team will oversee your procedure. This team will include an imaging physician and an imaging technologist .
Before Arriving for Your Procedure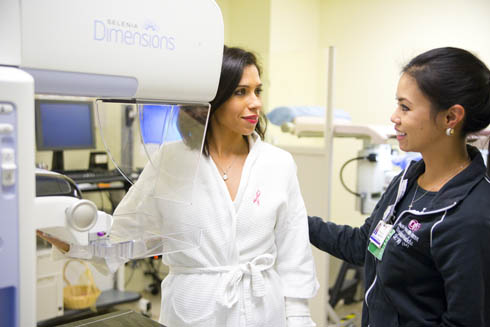 You will receive instructions from the surgeon performing the biopsy about your pre- and post-procedure instructions.
After Arriving
A  technologist will ask you a few questions regarding your medical history.
Please inform the technologist, or physician of any allergies you may have before your exam.
An IV line will be started in the pre-op area as requested by surgeon.
An imaging physician will discuss this procedure with you in detail and answer any questions you may have.
During Your Procedure
You will be asked to lie down, sit or in rare cases stand during the procedure.
You will be asked to hold very still.
The exact location of the area of interest is identified either using a mammogram, an ultrasound or both, and the area for needle and later wire placement is numbed.
The needle is inserted, a tiny amount of blue dye is injected, and a wire is placed to mark the area.
This procedure usually takes approximately 45 minutes, and please allow 1 ½ - 2 hours for your appointment.
After Your Procedure
You will be directed to the location where you will have the breast surgery.
Following your surgery, you will receive additional instructions.
For more information or to schedule an appointment, please call 310-423-8000.