Screening Mammogram: 2D and 3D Tomosynthesis
What is Mammography?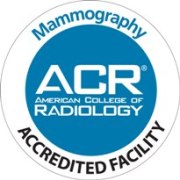 Mammography is a type of imaging that uses a low-dose X-ray system to examine breasts. A mammography exam, or mammogram, is used to aid in the diagnosis of breast diseases in women. The American College of Radiology and the Society of Breast Imaging both recommend mammography as a means of saving lives. A study in the journal Cancer also found that regular mammography screening can save lives.
What Are Some Common Uses of a Mammogram?
Mammograms are used as a screening tool to detect early breast cancer in women experiencing no symptoms. They are also used to detect and diagnose breast disease in women experiencing symptoms such as a lump, pain or nipple discharge.
Mammography plays a central part in the early detection of breast cancers because it can show changes in the breast up to two years before a patient or physician can feel them. Current guidelines from the American Cancer Society recommends women begin screening mammography at age 45, and the American College of Radiology recommends screening mammography beginning at age 40, and that women have a risk assessment at age 30. Research has shown that annual mammograms lead to early detection of breast cancers, when they are most curable and breast-conservation therapies are available.
We offer screening mammography (and other breast studies and procedures) for men, as well as women.
2D and 3D Mammography (3D Tomosynthesis)
At Cedars-Sinai we offer both 2D and 3D screening mammography (called 3D tomosynthesis). In 2D mammography, two X-ray images are taken, one from the top, and a second from the side. In 3D tomosynthesis, more images are taken, resulting images of thin slices of the breast. This means that breast tissue from one side of the breast does not get in the way of the images of the other side of the breast.
From a patient perspective, the experience of having 2D and 3D mammograms are almost identical. In both, compression is used to immobilize the breast and to help capture images of the whole breast. 3D tomosynthesis does not require more breast compressions.
3D tomosynthesis has been shown to reduce the number of false-positive results, with fewer call-backs for additional imaging. At Cedars-Sinai, 3D tomosynthesis is open to all women who wish to use it for a screening mammogram, and we recommend 3D tomosynthesis for women having their first mammogram and for women who have been told they have dense breasts. (For more information on dense breasts, click here.)
Most insurances do cover 3D tomosynthesis. However, you can check with your provider to be sure. If your provider does not cover the 3D portion, you will be billed for the discounted balance. To inquire about pricing, please call: 310-423-8000.
Why choose the S. Mark Taper Foundation Imaging Center for a mammogram? 
To schedule an appointment, please call 310-423-8000. You do not need a physician's referral before receiving this exam, but you do need to provide the name of your physician. The physician you designate should be one you have seen within the last two years.
How Is the Procedure Performed?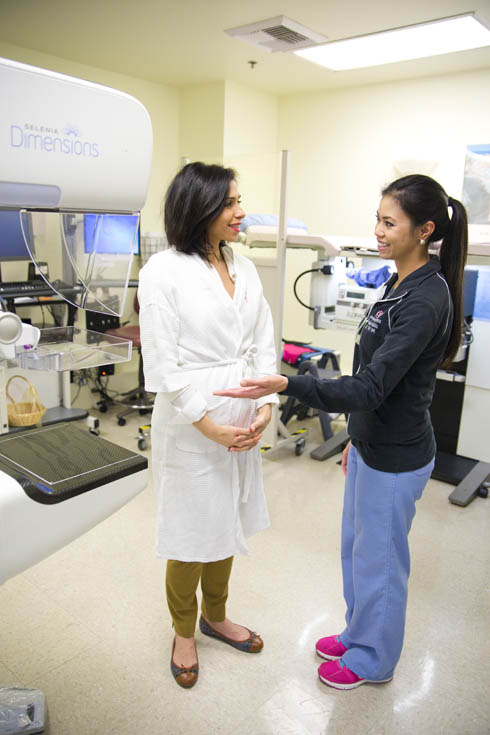 During both 2D and 3D mammography, a specially qualified radiologic technologist will position your breast in the mammography unit. Your breast will be placed on a special platform and compressed with a paddle. The technologist will gradually compress your breast.
Breast compression is necessary in order to:
Even out the breast thickness so that all of the tissue can be visualized.
Spread out the tissue so that small abnormalities won't be obscured by overlying breast tissue.
Allow the use of a lower X-ray dose since a thinner amount of breast tissue is being imaged.
Hold the breast still in order to eliminate blurring of the image caused by motion.
Reduce X-ray scatter to increase sharpness of picture.
You will be asked to change positions slightly between images. The routine views are a top-to-bottom view and an oblique side view. The process will be repeated for the other breast.
You must hold very still and may be asked to keep from breathing for a few seconds while the X-ray picture is taken to reduce the possibility of a blurred image. The technologist will walk behind a wall or into the next room to activate the X-ray machine.
When the examination is complete, you will be asked to wait until the technologist determines that the images are of high enough quality for the radiologist to read.
The examination process should take about 30 minutes.
For more information or to make an appointment, please call 310-423-8000.
The S. Mark Taper Foundation Imaging Center provides a full range of advanced imaging, both radiology and cardiology, as well as interventional radiology and interventional tumor (oncology) treatments to the greater Los Angeles area, including Beverly Hills, Encino, Mid-Cities, Sherman Oaks, Silver Lake, Studio City, Toluca Lake and West Hollywood.