About Us
The S. Mark Taper Foundation Imaging Center, a division of Cedars-Sinai, is where a world-class team of 38 imaging specialists deliver personalized care in state-of-the-art facilities. 
What sets us apart:
The best of a world-class medical center combined with the individualized care of a community hospital: subspecialized physicians using the latest technology provide the finest care for each patient.
Satisfied patients: Flexible patient scheduling, a warm, supportive environment and a friendly, customer-focused staff.
For 19 years in a row, 

Cedars-Sinai

 has won the National Research Corporation's Consumer Choice Award for providing the highest quality medical care in the Los Angeles region based on a survey of area households.
American College of Radiology (ACR) accredited in Computed Tomography (CT), Mammography, Magnetic Resonance Imaging (MRI), PET, and Ultrasound, including breast MRI, breast ultrasound and breast biopsy, having met the ACR's stringent benchmarks for practice and performance.
Intersocietal Accreditation Commission (IAC) accredited in Nuclear Medicine, PET, and Vascular Ultrasound.
Subspecialized Imaging Physicians:  "All imaging physicians at this center are "subspecialized," meaning they are fellowship trained in specific imaging disciplines, such as scans of the brain or images of the cardiovascular system. When it comes to your health, it's a distinction that matters," says Chairman Barry D. Pressman, MD, FACR.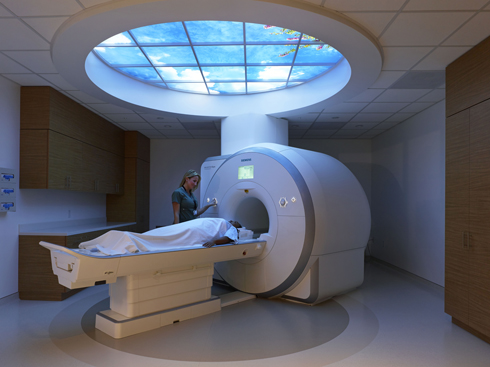 On-site Emergency Department available if needed.  

Pioneering research in the clinical applications of cardiac imaging, coronary calcium scanning, which provides the earliest possible detection of heart disease, and software techniques for the interpretation of cardiac scans, which were developed by our cardiac imaging specialists and are used worldwide. We are recipients of National Institutes of Health (NIH) and foundation research grants.
The latest technology including a state-of-the-art digital and filmless picture archiving and communication system (PACS). "If a former inpatient returns as an outpatient or vice versa, generally we can immediately see all of the prior studies," Pressman says. "It's not an issue to retrieve a study for comparison." PACS enables quick and safe delivery of test results to your physician, allowing doctors at several locations to simultaneously view images and more effectively collaborate in patient care.
A commitment to Women's care, offering a multitude of breast, cardiac and gynecologic imaging modalities that address the special needs of women at every stage of life.
Image-guided minimally-invasive procedures to diagnose and treat conditions such as cancer, coronary and vascular diseases, aneurysms, spinal compression fractures, and uterine fibroid embolization.
One of the nation's largest and most respected nuclear medicine departments with a comprehensive research program.
Not For Profit, so 

Cedars-Sinai

 reinvests all its earnings into improving patient care, research, education and community service.
One-stop care: as part of 

Cedars-Sinai

 Medical Center, we offer the full range of medical care.
A residency program in diagnostic radiology, and fellowships in cardiac, body, musculoskeletal (bone), nuclear and neuroradiology.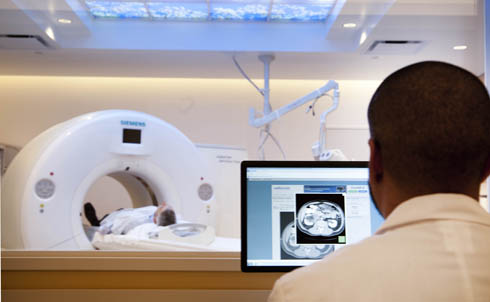 To schedule an appointment, please call:
The S. Mark Taper Foundation Imaging Center provides a full range of advanced imaging, both radiology and cardiology, as well as interventional radiology and interventional tumor (oncology) treatments to the greater Los Angeles area, including Beverly Hills, Encino, Mid-Cities, Sherman Oaks, Silver Lake, Studio City, Toluca Lake and West Hollywood.