Meet the Cardiogenetics Team
The Smidt Heart Institute Cardiogenetics Program is a comprehensive cardiovascular genetics program for patients and families with a history of genetic heart conditions. Our team of experts, led by Sumeet Chugh, MD, provides genetic counseling, personalized care and support to patients and families with hereditary heart conditions, such as familial atrial fibrillation, Marfan syndrome and arrhythmogenic cardiomyopathy.
Other physicians in the program are Eugenio Cingolani, MD, director of the Familial Arrhythmia Program; Michele A. Hamilton, MD, director of the Heart Failure Program; cardiologist Florian Rader, MD, MSC; Prediman K. Shah, MD, Shappell and Webb Family Chair in Clinical Cardiology; and Robert J. Siegel, MD, director of the Noninvasive Cardiac Laboratory.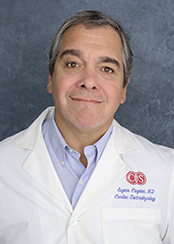 Associate Professor, Cardiology
Director, Preclinical Research
Director, Cardiogenetics Program
SPECIALTY
Cardiac Electrophysiology, IM Cardiology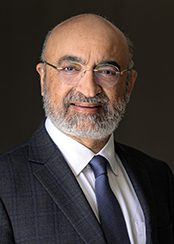 Medical Director, Heart Rhythm Center
Director, Center for Cardiac Arrest Prevention
Pauline and Harold Price Chair in Cardiac Electrophysiology Research
Associate Director for Genomic Cardiology
Director, Division of Artificial Intelligence in Medicine
Professor, Medicine
SPECIALTY
Cardiac Electrophysiology, IM Cardiology
---
Many of the physicians who have medical staff privileges to practice medicine at Cedars-Sinai are independent physicians, and not employees or agents of the hospital. These independent physicians bill separately for their services. You should contact your physician to determine their status and billing practices.