Leadership
Amyloidosis is a rare, complex condition requiring a multidisciplinary approach. At Cedars-Sinai, you have access to all the specialists you may need, including highly skilled cardiologists, oncologists and more.
Our team, led by expert phyisican leadership, has years of experience treating cardiac amyloidosis and its complications. They work together to deliver timely care reflecting the latest research. This level of expertise is not widely available on the West Coast.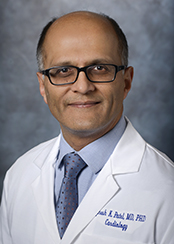 IM Cardiology
Director
Cardiac Amyloid Program
Medical Director
Heart Transplant
Clinical Professor of Medicine
Cedars-Sinai Medical Center
See a complete list of our expert physicians.