Leadership
You'll have access to the full range of noninvasive and minimally invasive endoscopic procedures for digestive, liver, pancreatic and biliary diseases at Cedars-Sinai. Trust your diagnosis and treatment to the team of experts who pioneered gastrointestinal endoscopy, and who were among the first to perform and perfect many of these leading-edge techniques, which often result in faster recoveries and shorter hospital stays.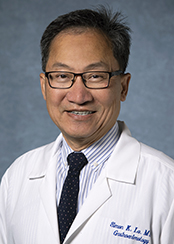 IM Gastroenterology
Director
Gastrointestinal Endoscopy
F. Widjaja Family Chair in Digestive Diseases
Director
Pancreatic and Billiary Diseases Program
See a complete list of our expert physicians.