The Lung Cancer Clinic offers a multidisciplinary approach to the treatment of lung cancer, including minimally invasive surgical options, access to cancer clinical trials, risk assessment and early detection, and comprehensive supportive care options.
Why Our Clinic is Different
Developing an effective treatment plan for lung cancer involves input from a variety of specialists. For many patients, the time from diagnosis to the start of treatment can be frustrating and lengthy.
To expedite development and implementation of a treatment plan, the clinic brings together a multispecialty team of leading experts in thoracic surgery, medical oncology, radiation oncology, pulmonology, pathology and radiology. Newly diagnosed patients work with a coordinator who serves as the point person for the treatment team — reviewing the patient's history and making appropriate appointments based on the patient's needs and the team's recommendations.
Patients are seen by a medical oncologist who evaluates the patient, reviews diagnostic testing, and meets with the multispecialty team to discuss each patient's case to determine the best course of action for treatment. Treatment strategies are developed with referring physicians and through the Cancer Institute's community network. For patients that travel long distances to receive care at Cedars-Sinai, delivery of follow-up care may be available closer to home.
Cancers We Treat
The Lung Cancer Clinic has expertise in the treatment of all types of cancers of the lung, including emphysema, lung cancer and mesothelioma.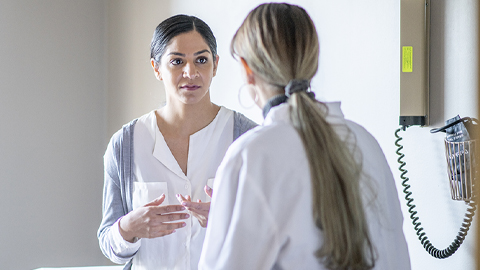 Lung Cancer Screening
Understand who needs lung cancer screening and what to expect if you choose a test such as a low-dose CT scan.
Have Questions or Need Help?