Lung cancer is the #1 cause of cancer-related deaths in the United States, but it doesn't have to be. Lung cancer screening allows us to catch and successfully treat cancer early, even before you experience symptoms.
---
Cedars-Sinai's Lung Cancer Screening Program supports you with comprehensive and compassionate care. Our team of experts identifies your risk and recommends the best plan for your needs.
---
Who Needs Lung Cancer Screening?
People who smoke or used to smoke should consider lung cancer screening, even if they have no symptoms of lung cancer. Talk with your doctor about screening if you meet all three of these criteria:
Age 50-80 and in fairly good health
Currently smoke or quit smoking in the last 15 years
Have a smoking history of at least 20 pack years, defined as the number of cigarette packs smoked per day times the number of years they've smoked
---
What to Expect
Our Lung Cancer Screening Program pairs you with a dedicated lung cancer screening navigator who guides you through the process, including:
Consultation: You meet with your navigator virtually to discuss your smoking habits, prescriptions and medical history. This information helps us determine your lung cancer risk.
Discussion about lung cancer screening: If you have a high risk for lung cancer, we discuss screening with you, including risks and benefits. You choose if screening is right for you.
Low-dose CT (computerized tomography) scan: Also called a lung CT scan or lung cancer X-ray, this is the primary lung cancer screening test. It is a fast and painless procedure that uses advanced imaging to see inside your lungs.
Test results: You and your doctor discuss your test results and any next steps, which may include more tests or a biopsy.
Medicare and most private insurance companies pay for lung cancer screening tests.
---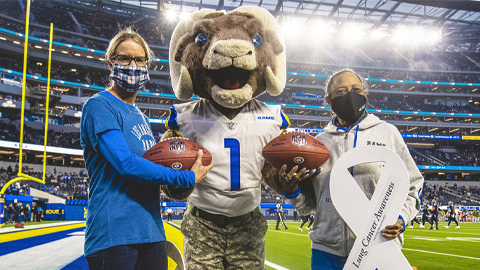 Tackling Cancer With Targeted Therapy
Like many health conditions, lung cancer affects some groups disproportionately. In the U.S., Black Americans are especially hard hit by lung cancer, experiencing higher incidence of lung cancer, lower survival compared to white patients and more challenges accessing care.

---
Related Programs & Services
At Cedars-Sinai, you have access to a full suite of lung cancer programs and services, including:
Have Questions or Need Help?