Cervical Cancer Screening
Cervical cancer screening detects the first signs of disease before you experience any symptoms. Women who undergo regular screening tests are most likely to prevent and beat cervical cancer.
---
Cedars-Sinai offers precise cervical cancer screening using the most advanced methods. Our providers work with you to develop a personalized screening plan based on your health and other factors.
---
Who Needs Cervical Cancer Screening?
Starting at age 21, all people with a cervix should have routine tests for cervical cancer. Doctors may recommend more frequent testing if you have these cervical cancer risk factors:
History of human papillomavirus (HPV), a sexually transmitted infection
Smoking
Lack of regular Pap smear testing
Human immunodeficiency virus (HIV) infection or a weakened immune system, which may put you at a higher risk for HPV
History of chlamydia, a sexually transmitted bacteria that can cause infection in the reproduction system

Other reproductive factors, including long-term use of oral contraceptives (birth control pills), three or more full-term pregnancies, and first full-term pregnancy before age 20
Personal or family history of cervical cancer
Your mother took the medicine DES (diethylstilbestrol) while pregnant with you
---
What to Expect with Cervical Cancer Screening
Cervical cancer screening happens as part of a pelvic exam. Your healthcare provider gently inserts a speculum in the vagina to open it and see the cervix. Using a soft brush, the provider collects a sample of cells and mucus from the cervix.

We send the sample to a laboratory for either or both of these tests:
Pap test (Pap smear) detects early cervical cancer or precancerous cervical cells.
HPV test checks for infection with the types of HPV that can cause cancer.
If you have an abnormal Pap smear or positive HPV test, your doctor may recommend additional tests, including:
Colposcopy allows your doctor to examine the cervix's surface for signs of cancer with a colposcope (a specialized magnifying device).
Cervical biopsy, in which your doctor removes a small cervix tissue sample, and a pathologist (a doctor who specializes in diagnosing cancer) tests it for cancer.
---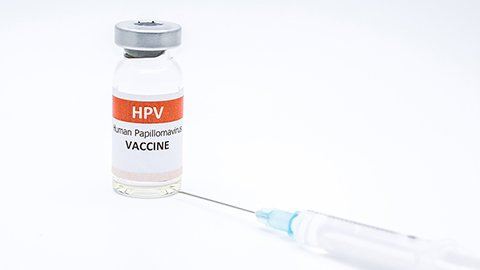 HPV Vaccine Recommendations Changed: Is It Right for You?
The Centers for Disease Control and Prevention (CDC) recently expanded its recommendations for the HPV vaccine because research has shown that it can help prevent cancer in more people. Find out if you should consider the HPV vaccine.
Related Programs & Services
Cedars-Sinai offers comprehensive services for cervical cancer prevention, treatment and beyond. Learn more below:
Have Questions or Need Help?