Rev. Christina Shu, MDiv, BCC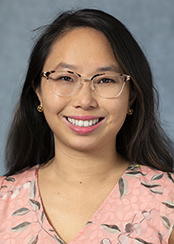 Lead Interfaith Chaplain
Rev. Christina Shu, MDiv, BCC, serves as the lead interfaith chaplain at Cedars-Sinai. She is board-certified with the Association of Professional Chaplains.
Rev. Shu's focus is to provide interfaith spiritual care to patients and families from diverse religious communities (Muslim, Hindu, Buddhist, etc.), and those who are not religious, are unaffiliated or are personally spiritual. Her specialties are palliative care patients and families experiencing grief and loss, end-of-life situations, and coping with long-term illness and hospitalization. She participated in a two-year, grant-funded project to integrate spiritual care into palliative care for patients and families. In 2017, Rev. Shu and Rev. Pamela Lazor received a two-year grant to teach research literacy to clinical pastoral education students from the John Templeton Foundation for Transforming Chaplaincy. She has an interest in increasing research awareness and integration into chaplaincy care.
Rev. Shu earned a bachelor's in religious studies, with departmental honors, at Stanford University. She then earned her master's in divinity at Harvard Divinity School.
Rev. Shu completed chaplaincy internships at several venues, including the Center for Urban Chaplaincy in San Diego, Tufts University in Sommerville, Massachusetts, and Boston Medical Center. She was a chaplain resident at the UCLA Medical Center and has earned six units of clinical pastoral education. She is an ordained Unitarian Universalist minister and an affiliated community minister at Neighborhood Unitarian Universalist Church in Pasadena.
Give us a call or send a message for an appointment or hospital visit.