A Message from Nursing Leadership
Nurses at Cedars-Sinai are a remarkable, diverse group of professionals who are united by a single goal: to make a difference. From the bedside to the boardroom, our nurses are leaders in every aspect of the care delivery system. Through our Shared Leadership Council, nurses engage in critical decisions about their clinical practice, patient care, work environment, and opportunities for professional growth and development. Cedars-Sinai nurses conduct original research, present at conferences, launch projects and work closely with a range of clinical and administrative leaders to help us continually improve and build a reputation as one of the top health systems in the country.
In 2021, the Watson Caring Science Institute welcomed Cedars-Sinai as a National Affiliate System, recognizing our commitment to "Excellence in Human Caring" – which is the vision for Cedars-Sinai Nursing. Caring is the foundation of what we do in nursing – we care for our patients, for each other, for our community, and for this great profession of ours.
It is a privilege to work with so many dedicated, compassionate people. I strive to ensure that every nurse can sincerely say that they love their job, and I hope that you will consider Cedars-Sinai your new home. I am proud to be a Cedars-Sinai nurse.
---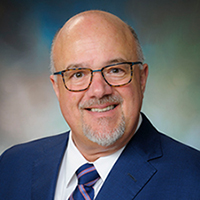 David Marshall, JD, DNP, RN, FAAN
Sr. Vice President, Nursing
Chief Nursing Executive
---
Throughout the many challenges we've faced, nurses have demonstrated extraordinary teamwork, resilience and skill, playing critical roles in every aspect of our patient care delivery system. At Cedars-Sinai, nurses are valued not only for their skills, but for their voices. Our Shared Leadership Council ensures nurses are heard and take part in important decisions across the organization. Cedars-Sinai also has a rich history of offering a multitude of professional growth and development opportunities for career advancement, and we continue this long-standing commitment today. Our programs and events celebrate and amplify diversity throughout the institution, creating an inclusive environment where everyone is valued.
Cedars-Sinai has a strong culture of camaraderie, where empathy runs deep, and we are encouraged to take care of ourselves and our colleagues. It's no surprise that Cedars-Sinai Nursing has the longest-running Magnet Designation in California – we are currently applying for our 6th designation. Magnet Recognition identifies healthcare organizations that truly value nurses, to the benefit of the whole organization. At Cedars-Sinai, there are countless aspects of healthcare in which nurses can—and do—shine. That's why we believe that Cedars-Sinai is not only the best place for patients, but the best place to be a nurse, and we'd love to welcome you to the team.
---
Anita Girard, DNP, RN, NEA-BC
Vice President
Chief Nursing Officer
---