Cedars-Sinai Appoints New Director of International Patient Services
Feb 05, 2021 Cedars-Sinai Staff
As part of our ongoing efforts to continuously improve our patient services, Cedars-Sinai International is pleased to announce the appointment of Dr. Shoma Desai to the newly created position of director of International Patient Services. In this role, Dr. Desai will lead our efforts in providing world class support to patients traveling from near and far to access top healthcare at Cedars-Sinai in Los Angeles.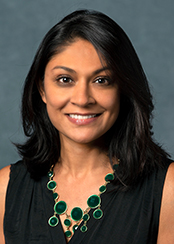 Dr. Desai came to Cedars-Sinai in July 2019, bringing with her an extensive background in academic medicine and healthcare administration. She began at Cedars-Sinai International as a manager on the Patient Services team, and prior to coming to Cedars-Sinai she was an associate professor of Clinical Emergency Medicine, the medical director and the division chief of Administration in the Department of Emergency Medicine at LAC+USC Medical Center. Collaborating with her colleagues internally and across several departments at Cedars-Sinai, she has made significant progress toward implementing data-driven process improvement, operational efficiency and a patient-centered approach to patient care. Over the last year, notable achievements included establishing a robust patient services dashboard, implementing daily patient rounds, initiating an infection screening process and coordinator charting in CS-Link™, and attaining full accreditation from the Global Healthcare Accreditation.
Cedars-Sinai is recognized both nationally and internationally as a high-quality healthcare system drawing people from around the world to its experts, technologic advancements and clinical care. Looking forward, Dr. Desai and the Cedars-Sinai International Patient Services team aim to elevate the medical traveler experience, aligning all services and activities from initial access through post-visit follow-up. A major step toward this goal is to fully understand our customers through engagement before, during and after their care at Cedars-Sinai. To this end, Cedars-Sinai also will build a robust feedback loop with healthcare providers and staff. Achieving a high degree of collaboration with both patients and our healthcare teams, we hope to leap beyond ordinary benchmarks and create a differentiated, high-quality, best-in-class medical traveler experience.
Please join us in congratulating Dr. Desai for her promotion, and we look forward to her continued pursuit of improving the care provision for patients coming to Cedars-Sinai from around the world.
Tags: