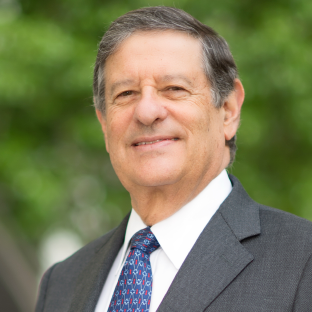 Shlomo Melmed, MB, ChB
Executive Vice President of Academic Affairs, Dean of the Medical Faculty and Distinguished Professor of Medicine
Shlomo Melmed, MB, ChB, FRCP, MACP, leads Cedars-Sinai's research and education programs, recruiting nationally recognized faculty leadership, establishing new educational programs and maintaining the highest academic standards. Dr. Melmed holds the Helene A. and Philip E. Hixon Distinguished Chair in Investigative Medicine. An international authority on pituitary medicine, he has pioneered the discovery and application of novel treatments for endocrine tumors and has authored more than 350 peer-reviewed articles.
Dr. Melmed has been a faculty leader at Cedars-Sinai for nearly 40 years and has been the health system's chief academic officer since 1998. Dr. Melmed's laboratory consistently has received competitive grant awards from the National Institutes of Health since 1980, and he has trained over 80 physicians, scientists and graduate students who occupy leading positions in academic endocrinology worldwide. He is editor-in-chief of The Pituitary, editor of Williams Textbook of Endocrinology and is on the editorial board of the Journal of Clinical Investigation. He is also an associate dean of the UCLA School of Medicine.
He is an elected member of the Association of American Physicians, the American Society of Clinical Investigation and the Endocrine Society Council. He served as president of the International Society of Endocrinology, president and founding member of the Pituitary Society, a member of the California Institute for Regenerative Medicine's Independent Citizen's Oversight Committee and serves on the California Life Sciences Association Board.
Dr. Melmed is a fellow of the American College of Physicians (ACP) and was elected to Master of the ACP. He also has been honored with the Pituitary Society's Lifetime Achievement Award. He has been named one of America's top physicians and has received Cedars-Sinai's Pioneer in Medicine Award. Other honors include the Transatlantic Medal from the Society of Endocrinology, the Endocrine Society Clinical Investigator Award, The Endocrine Society Outstanding Scholarly Physician Award and the Royal Society of Medicine's Clinical Endocrinology Trust Medal.
Dr. Melmed earned a bachelor of medicine, bachelor of surgery (MB, ChB) with distinction from the University of Cape Town, South Africa. He is a diplomate of the American Board of Internal Medicine, certified in endocrinology and metabolism.